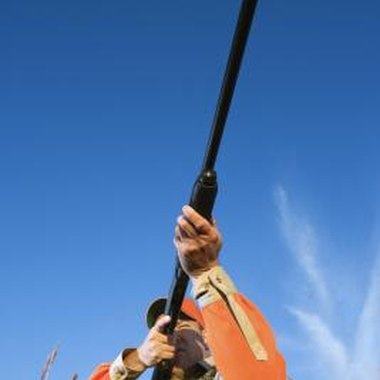 Saskatchewan, a province of Canada, has four ecological zones: prairie, boreal plains, boreal shield and taiga shield. Local hunters take advantage each year of the abundance of game. Each fall the Saskatchewan Ministry of Environment publishes its hunters' and trappers' guide, and in spring it publishes its Big Game Draw and spring hunting guide. Information is also available online at www.environment.gov.sk.ca.
Big Game Draw
More than a hunting license is necessary to hunt in Saskatchewan, Canada. A hunter must win a draw to bag game. In an effort to manage the region's wildlife, the Saskatchewan Ministry of Environment requires hunters to apply for the draw to kill big game. The Big Game Draw format was introduced in 2010, and became completely online in 2011. This method allows the ministry to adjust quotas and bag limits each year in consideration of the previous winter's impact on game populations. The online Big Game Draw information provides details on seasons, zones, license fees and bag limits.
Species Availability
Although basic seasonal information such as hunting season dates and regulations can be found in hunting guides from the previous year, game availability cannot always be predicted. The Saskatchewan ministry sometimes makes substantial changes, so the new guide must be consulted. In the 2011 Big Game Draw and Spring Hunting Guide, for example, pronghorn antelope season was cancelled because of the high mortality rate of the species the previous winter. However, the same guide announced that for the first time there would be moose and elk hunting in the Saskatoon Wildlife Management Zone.
Who Can Enter
The Big Game Draw is open only to Saskatchewan residents. This includes people whose principal residence is in the province who have been living there at least three months before applying for a hunting license. The Saskatchewan Ministry of Environment also allows members of the Canadian Armed Forces or an RCMP stationed in the province to enter. Beginning in 2011, a member of the Canadian Armed Forces who was a Saskatchewan resident when recruited or deployed may also enter the Big Game Draw. Hunters must purchase a Wildlife Habitat Certificate to validate licenses, and must carry it with them while they hunt.
Game in Saskatchewan
Saskatchewan is a large province rich in game animals. Historically, hunters have spent the season in the province hunting mule deer, pronghorn antelope, antlerless mule deer, elk, moose, bear, snow goose and white-tailed deer. Availability of game fluctuates according to the harshness of winter and mortality rates. Some game is available to all hunters, and others are available only to residents of Canada or to residents of Saskatchewan. Sometimes hunters are asked to work with the Saskatchewan Ministry of Environment to gauge the health of a species, such as with the ministry's Chronic Wasting Disease Surveillance program of 2011.
Photo Credits
Jupiterimages/Comstock/Getty Images