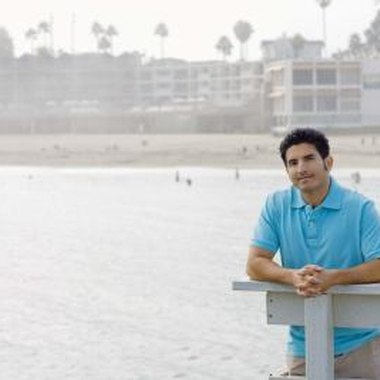 Located just to the south of the San Francisco Bay Area, Santa Cruz is nestled cozily in an area filled with natural beauty. Miles of beaches and acres of redwood forests surround the town. Its most famous tourist attraction may be the old-fashioned beach boardwalk, but other attractions abound, from hiking trails to surfing lessons, plus all the cultural amenities a hip college town can provide. One important note: in several Santa Cruz areas, dogs -- whether on or off leash -- are prohibited. This includes the UC Santa Cruz campus, all public beaches (except state beaches) and the downtown Santa Cruz district along Pacific Avenue.
Hilton Santa Cruz Scotts Valley
If you're looking for a posh place to bed your pet in Santa Cruz, the Hilton Santa Cruz Scotts Valley might be a good choice. Located several minutes from central Santa Cruz off Highway 17, the Hilton resembles a castle on the outside. On the inside, all the usual amenities are provided, including a heated outdoor pool, fitness room, business center, restaurant and gift shop. Dogs up to 75 lb. can stay with you in your room for a $50 nonrefundable fee as of 2010.
The Inn at Pasatiempo
The Inn at Pasatiempo is also slightly off the beaten path, just off Santa Cruz Highway 17 in the hills near Pasatiempo Golf Course. You'll need a car to get to any attractions in the city; parking is free. A favorite spot for weddings, this hotel gets high marks for its attractive rustic setting, its courtyard and its pool. The accommodations are on the small and spare side, especially the bathrooms, but they're kept clean and are cozy. Dogs up to 25 lb. are allowed to stay for a small nightly cleaning fee.
Ocean Pacific Lodge
The Ocean Pacific Lodge boasts a central location just blocks from the wharf and Neary Lagoon Park. It offers humble but spacious rooms, an outdoor pool and -- noteworthy considering the location -- free parking. The vibe is very 50s motor lodge, though the facility is well maintained. If you're looking for a no-frills bargain, this could be your spot. The pet policy requires a small fee per animal; pets are allowed only on the first floor, so booking ahead is strongly advised.
Hotel Pure Pacific Inn
This hotel gets mixed reviews from its patrons. Housed in an older building and located in a somewhat sketchy part of town, it won't win any points in the picturesque category. The hotel makes up for this with friendly and responsive service, plus a well-regarded continental breakfast spread. Its nomenclature can be confusing, too -- it was previously known as the Guesthouse Inn and can also be found under the name Pacific Inn. One thing is certain, however -- dogs are quite welcome on the premises. The hotel charges a small per night fee for rooming dogs; you can have as many dogs of any size as you like in your room with you.
Photo Credits
Jupiterimages/Creatas/Getty Images