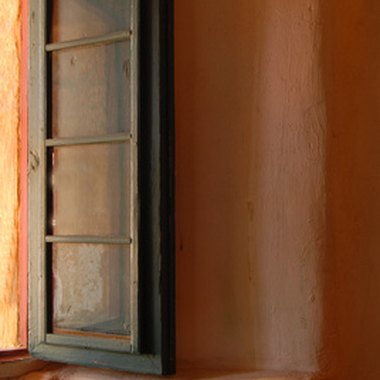 Santa Barbara is known for its Spanish-style architecture, blooming bougainvillea, access to area wineries and sweeping views to the Channel Islands just offshore. Art galleries, excellent restaurants, a small zoo and elegant shops bring year-round travelers to Santa Barbara. It's also a convenient gateway between the sleepy coastal towns of Central California and the bustling glamor of Los Angeles, about 90 minutes to the south. Upscale hotels line the State Street shopping district and coastline, although travelers also may choose to stay in rustic hotels embedded in the region's foothills.
Spanish Elegance
The Four Seasons is located within walking distance to State Street's downtown shopping district. Accommodations include traditional hotel rooms or one-story cottages, many equipped with vaulted ceilings, Spanish-tiled floors and balconies. Bathrooms include rainfall showers or soaking tubs, and guests may cuddle in thick terry bathrobes. Dine on seafood and Italian-influenced items from the on-site restaurant menu, or wander down to the pier for a bowl of clam chowder, fresh fish tacos or a cold glass of local white wine. For families, the hotel offers child-sized bathrobes, complimentary use of toys, child safety-proofed suites and special menu items.
Oceanfront
The Hotel Oceana in Santa Barbara is located along the city's oceanfront boulevard, with well-maintained gardens, elegant courtyards and amenities including two outdoor pools, a hot tub and private poolside cabanas. It's a quick walk to the marina to admire the sailboats and fishing vessels, and the hotel provides complimentary beach cruisers for scooting along the promenade to people-watch, grab a quick seafood lunch, or visit one of the frequent artisan fairs along the grassy embankments lining the road. The lobby holds laptops so guests can print boarding passes or check their inboxes, and there's free wireless Internet throughout the venue. Rooms come equipped with CD players or mp3 docking stations, and Aveda toiletry products.
Wine Country
Just outside Santa Barbara, the Santa Ynez Inn provides convenient access to the region's many wineries. Decor blends Southern California casual with Victorian touches for a simple, comfortable feel. Munch on handmade scones and muffins for breakfast, and book a sage and warm-stone massage at the on-site spa. The concierge can help book a wine tour to sample Santa Barbara County's respected Pinot Noir, Cabernet and Merlot blends. Cycling tours booked through the hotel guide guests through horse ranches, lavender fields, wineries and canyons, with stops for a gourmet picnic lunch and wine sampling.
Natural Santa Barbara
El Capitan Canyon is an upscale resort located 20 minutes north of downtown Santa Barbara in the Santa Ynez foothills. Located on 300 acres of natural beauty, cedar cabins are equipped with quality linens, a wet bar, soaking bathtubs, a kitchenette and an outdoor grill. Guests may dine on private patios while smelling wild sage, springtime wildflowers and ocean breezes gusting in from the coast. Outdoor concerts, yoga classes and docent-led hikes are available to guests.
Photo Credits
open window in the mission of santa barbara image by David Smith from Fotolia.com