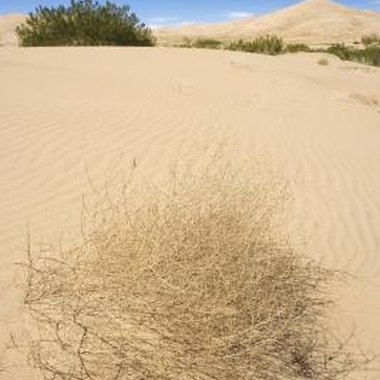 Sand skiing is an extreme sport where participants slide down dunes with traditional winter sports equipment. Unlike snow ski resorts, sand skiing slopes are not fitted with lifts and sports enthusiasts are required to walk up the hills they want to descend. Sand skiing requires a certain height, and sand dunes suitable for the activity are rare in the immediate area surrounding Las Vegas. There are, however, some sand skiing opportunities in suitable driving distance for a day trip.
Nellis Sand Dunes
The closest sand dunes to Las Vegas are situated 15 miles northeast of the city. The Nellis Recreational Area consists of several dunes at a height between 250 and 300 feet. Sand skiing conditions are not ideal due to the low height of the dunes and the sand being partially mixed with gravel, but it is worth a try when the trip is combined with an adventurous off-Highway race on an ATV or sand buggy around the area.
Kelso Dunes
The Kelso Dunes are 81 miles south of Las Vegas, close to the town of Baker in the Mojave desert. The Kelso Dunes are mostly famous for producing a singing sound when the sand slides down slopes. The Kelso Dunes have a height of 600 feet and are used by sandboarders and skiers because of the good quality of the sand. Summer temperatures can exceed 100 degrees Fahrenheit, and skiers should bring sun protection and plenty of liquid as provisions cannot be purchased close by.
Dumont Dunes
The Dumont Dunes are close to the town of Barstow, approximately 100 miles southwest of Las Vegas, and suitable for sand skiing. The dunes measure up to 500 feet in height and are popular among ATV, sand buggy and other off-Highway drivers. On weekends, the area can be crowded as off-highway drivers, hikers, sandboarders and skiers have to compete for the space. Visitors driving into the dunes are required to purchase a pass, with prices starting at $30 for a weekly pass at the time of publication.
Amargosa Dunes
Situated 100 miles northeast of Las Vegas in Beatty, the Amargosa Dunes are a possible sand skiing destination on the outskirts of Death Valley. The dunes are also known as Big Dune and rise up to 500 feet. Permits are not required for sand skiing and off-highway driving, but the region is a habitat for several endangered species and plants, and visitors are asked to keep away from certain areas that are designated as off limits.
Photo Credits
Jupiterimages/Comstock/Getty Images