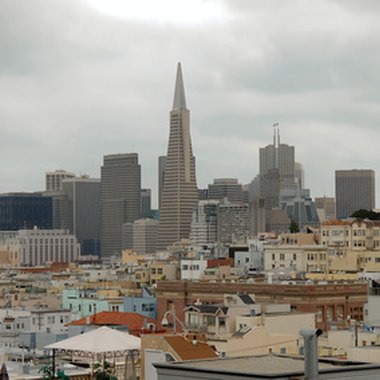 Where Lombard and Hyde streets meet near Fisherman's Wharf in San Francisco's Russian Hill district marks an area often referred to as the world's "crookedest street." Although curvier streets exist, thousands of visitors come annually to marvel at the steep brick road that twists and turns down its flower-lined path. The hotels in the Lombard Street area are conveniently located near shopping and nightlife on Chestnut and Union streets, the Golden Gate Bridge, Union Square and Chinatown.
Buena Vista Motor Inn
The Buena Vista Motor Inn, located on Lombard Street just five blocks from its winding point, features a salmon-colored townhouse façade that resembles the famous Pink Ladies of the Bay Area. Traditional-style guest quarters have vibrant red bedding with complementary mauve window treatments that open to picturesque city views. The staff claims the inn offers "the friendliest lodging in the marina," and its round-the-clock guest service includes a complimentary light breakfast service.
The Francisco Bay Inn
The three-story San Francisco Bay Inn has a corner glass elevator that is illuminated at night. Rich, jewel-tone finishes from flooring to bedding to window treatments create dim sleeping quarters. Separate seating with ample floor and wall task lighting create a comfortable space for working or having a meal en suite. You can catch a free tour pickup shuttle at a stop right in front of the inn, and a cable car pickup is just two blocks away.
La Luna Inn
The independently owned La Luna Inn, located steps from San Francisco Bay and the Presidio, offers boutique hotel rooms with double queen or king beds. Guest quarters feature cherry cornflower and buttercream walls, generous wood furnishings and plush down comforters. The hotel offers complimentary parking and continental breakfast daily. Although the La Luna Inn does not have a restaurant or spa on site, the concierge can make reservations or schedule services nearby at your request.
Lombard Motor Inn
The Lombard Motor Inn offers budget accommodations in the Marina District, known for its stately Victorian homes, some of which have been converted to restaurants. Rooms contain one king or two double beds dressed in striped comforters in shades of dusty pink and green. Deep-colored wood furniture includes a table and chairs and a spacious chest of drawers. Contact the hotel staff to arrange any tours you'd like to take while visiting.
Hotel del Sol
Also in the Marina District, just one block south of Lombard at the corners of Greenwch and Moulton streets, sits the Hotel de Sol. This luxury hotel converted from a 1950s-themed motor lodge has Green Hotel Certification from the city of San Francisco. The hotel received a Fodor's Gold Choice Award for its kids' VIP program and kid-friendly outdoor pool and play area. The Mexican-inspired resort design encompasses a vibrant lemon exterior and punchy interiors in an electric, primary color palette. The Hotel del Sol provides free parking and a complimentary car service to the financial district and the convention centers. Enjoy a complimentary breakfast served daily, along with afternoon cookies and Friday night summer barbecues.
Photo Credits
san francisco view from lombard street image by Albo from Fotolia.com