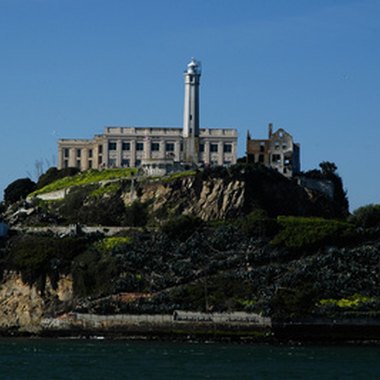 Al Capone spent the night, several in fact, on this rocky island in San Francisco Bay. Long before that, conscientious objectors to the Civil War were island guests of the U.S. military. In the late 1960s, after the prison was closed down, American Indians laid claim to Alcatraz Island and spent 18 months occupying its shores. Today the only overnight guests are birds and the occasional tuckered-out sea lion. Your best bet for a comfy, warm bed is in one of the hotels near Pier 33, the departure point for tours of Alcatraz.
Radisson Hotel Fisherman's Wharf
Less than 200 yards from the shopper's haven known as Pier 39, the Radisson Hotel Fisherman's Wharf is also only four blocks from Alcatraz Cruises LLC. This is the private company that ferries passengers to Alcatraz Island. The neon- graced entryway leads to a many-columned, high-ceilinged lobby reminiscent of an earlier age. Snuggle into your Sleep Number bed in one of the 355 contemporarily furnished rooms offering views of a palm tree-framed inner courtyard or San Francisco Bay. Relax in the outdoor heated pool or work off some of that San Francisco sourdough in the 24-hour fitness center. Nearby restaurants include Alioto's, Cioppino's and Bistro Boudin, where you can find sinfully delicious bread. Pets are welcome with the payment of a cleaning fee. (ref 2, also used rooms, services, dining)
The Wharf Inn
The glass and stucco façade at the Wharf Inn is reminiscent of the 1960s but the 51 guest rooms are thoroughly modern in décor and amenities. Its crown jewel is a two-bedroom, 1,000-square-foot Penthouse Suite overlooking San Francisco Bay that includes two furnished outdoor decks and a fully equipped kitchen. Located only five blocks from Pier 33 and barely one from Pier 39 and the San Francisco Bay Aquarium, this low-key property is moderately priced, offers free parking and allows two pets per room with a nightly fee. No restaurants are located on the property but nearby eateries include Fog Harbor Fish House, Franciscan Crab Restaurant and Johnny Rockets.
Sheraton Fisherman's Wharf Hotel
One of the mainstays of Fisherman's Wharf, the Sheraton is in the heart of this dynamic San Francisco tourist spot. Room décor is all about comfort and color. Your ultra-plush Sheraton Sweet Sleeper Bed and room chairs welcome you with boldly colored throw pillows in electric blue, eye-popping fuchsia and sunflower yellow. Your four-legged friend will have his own Sheraton Sweet Sleeper Dog Bed and doggie bowls waiting. Enjoy breakfast at the on-site Sol Restaurant or cocktails at the Spressi Martini & Sushi Bar. Or walk out the front door and find yourself surrounded by Italian, seafood and specialty restaurants. Pier 33 is five blocks away.
Best Western Tuscan Inn
Get a taste of the Italian way of life at the boutique Best Western Tuscan Inn. Cross the threshold into a lobby resembling the living room of an old country villa, complete with carved Italianate bookcases, overstuffed sofas and chairs, and a roaring fireplace. This comfy room is the setting for the evening Manager's wine reception, featuring some of California's finest vintages. Hotel rooms feature plush carpets and handsome brocades with artwork and throw pillows offering bold splashes of color. Some rooms are designated pet friendly. Specializing in pasta and fresh seafood, the adjacent Café Pescatore offers you the option of dining outside in the sunshine. Rent a Segway, a two-wheeled motorized personal transport machine, from the shop next door and zip your way around Fisherman's Wharf. The Tuscan Inn is less than five blocks from Pier 33.
Photo Credits
san francisco alcatraz prison image by Jeffrey Sinnock from Fotolia.com