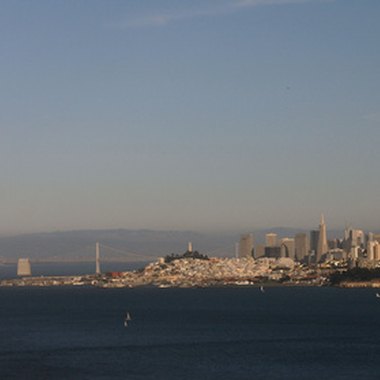 Downtown San Francisco, known for its scenic bay, fresh seafood cuisine, barking sea lions and bustling business district, attracts millions of visitors each year. Cable cars, pastel-colored town homes, political soapbox proclaimers and eccentric, used bookstores filled with poets and street-corner philosophers make visiting downtown San Francisco an invigorating and entertaining experience. The northern California city remains a convenient travel hub for business travelers too. Today's San Francisco visitors access the city's numerous downtown attractions by staying at nearby hotels.
Fisherman's Wharf
Downtown San Francisco's Fisherman's Wharf is the city's No. 1 destination for international visitors, according to the San Francisco Gate, attracting nearly 12 million visitors in some years. Barking sea lions, freshly caught Dungeness crab and views to Alcatraz Island are popular draws. San Francisco's boutique Argonaut Hotel sits next door to the Blue Mermaid Chowder House, where locals and tourists alike vie for bowls of fresh clam chowder and seafood. Guests access free wireless Internet access, hosted wine happy hours, on-site fitness center, and specially designed beds and showers for taller guests. Pets are welcome, and guests who park their hybrid car at the hotel get parking discounts.
Union Square
San Francisco's historic Union Square took its name from the Union-supportive rallies and demonstrations that took place there during the Civil War era. Today, the square contains benches for relaxing and drinking in the city's downtown sights. Weekday mornings are best for strolling and shopping; otherwise, prepare to compete with locals for elbowroom in the neighborhood's cafes and shops. Located near the city's convention center, the business-friendly Hotel Adagio offers a free 24-hour business center, morning town car service within a two-mile radius, ergonomic workstations in guest rooms and iPod docks.
Nob Hill
Upscale Nob Hill's money ties date back to the Gold Rush era, when nouveau riche San Francisco gold-diggers and railway barons built their mansions atop the hill. Elaborate, pastel-colored buildings still remain, and visitors to this downtown San Francisco neighborhood explore the area's fancy boutiques, ritzy cocktail lounges and old-school barbershops. In keeping with the swanky vibes, the 1926-era Intercontinental Mark Hopkins San Francisco Hotel offers complimentary town car transportation, marble bathrooms, city-view terraces, whirlpool tubs and canopy beds.
Chinatown
San Francisco's historic Chinatown blends kitschy plastic trinkets with vibrant outdoor markets vending traditional Asian delicacies. Dive bars, open-air stalls, fortune cookie factories, and religious and culture festivals lure thousands of tourists each year. The Asia-flair SW Wong Hotel features free tea and coffee in the lobby, daily newspapers and paid Internet access. Reasonably priced rooms come with a writing desk, microwave, marble bathrooms and wet bar.