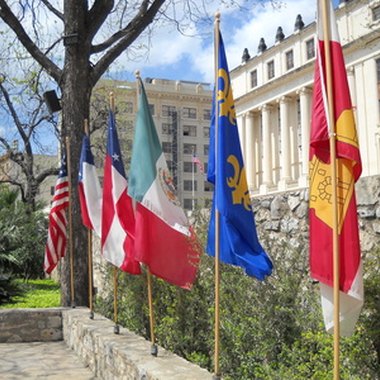 San Antonio's Riverwalk, a designated public park, is a stretch of hotels, restaurants, shopping and nightlife that runs along the San Antonio River. The meandering river splices cobblestone sidewalks, and is connected throughout by intimate bridges. Tranquil sidewalk gardens, broad terraces and riverboats all combine for America's best riverside district. The Riverwalk's central portion offers a selection of hotels that is only a few steps from the Alamo.
Hilton Palacio Del Rio
Opposite the San Antonio Convention Center, and directly on the Riverwalk, Hilton Palacio Del Rio offers guest one amenity that many of the other Riverwalk properties lack: a balcony. Each room allows guest to enjoy downtown views while basking in the wonderful year-round weather. Guests will appreciate the hotel's swimming pool, concierge, fully outfitted business center and fitness room. Guest rooms feature flat-screen televisions, Hilton's trademark Serenity linens, WiFi and workdesk. The Ibiza Patio Restaurant and Bar, situated directly on the Riverwalk, serves breakfast, lunch and dinner.
Mokara Hotel & Spa
Previously the Watermark Hotel, Mokara Hotel & Spa brings a new luxury brand to San Antonio's Riverwalk. From the historic building to the contemporary guest rooms, the Mokara has earned its status as the only four-star rated San Antonio hotel by Forbes Travel Guide. The hotel's rooftop pool, exemplary service, modern fitness center and full-service spa contribute to its four-star ranking. Rooms come standard with 10-foot ceilings, spa tubs, luxurious linens and marble fixtures. The Ostra and Rooftop Cafe are the hotel's two dining outlets.
Westin Riverwalk Hotel
The Westin Riverwalk Hotel brings its signature Heavenly Beds and Baths to San Antonio's Riverwalk. One of the Riverwalk's largest hotels with 539 rooms and suites, Westin has an outdoor pool, a fully equipped fitness and business center, a Starbucks and riverside Italian restaurant. Guest rooms provide all white linens, an abundance of natural light, flat-screen televisions, and baths with independent tub and shower. The hotel provides more than 25,000 square feet of event space.
Marriott San Antonio Riverwalk
The towering 30-story Marriott San Antonio Riverwalk provides guests with one of the best views in downtown. The hotel is well located, blocks from the Alamo, Rivercenter Mall and convention center. When guests tire of exploring the magnificent Riverwalkand downtown area, the Marriott provides a comfortable escape with connecting indoor/outdoor pool, sauna, spa, fitness center and Tex-Mex restaurant. Guest rooms have flat-screen televisions, WiFi and radios.
Holiday Inn Riverwalk
The Holiday Inn Riverwalk is a value hotel that provides surprising amenities directly on the San Antonio River. From the complimentary newspaper and WiFi to flat-screen televisions and its proximity to the Alamo and Rivercenter Mall, Holiday Inn is a full-service hotel with mid-range price tag. The property provides a heated pool, fitness room, business center and riverside restaurant. The Alamo, Riverside Mall and convention center are all within walking distance.
Photo Credits
Alamo grounds - six flags image by Olivia Ogden from Fotolia.com