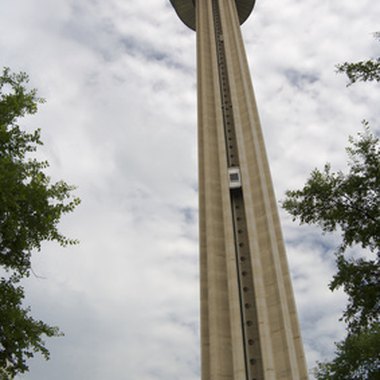 Set in Brackenridge Park, San Antonio's zoo is a 10-minute drive north of downtown. The zoo's 56 acres are home to some 600 species including elephants, red kangaroos and Sumatran tigers. San Antonio's largest concentration of hotels is in the city center, but some choices further north are in the vicinity of the zoo. Downtown attractions include the River Walk with its bars and restaurants, the historic Alamo and the 750-foot-tall Tower of the Americas.
Rodeway Inn Downtown
Set in a two-story property with an outdoor swimming pool, the Rodeway Inn Downtown is a 10-minute drive from both the San Antonio Zoo and Alamo Plaza. Room rates include continental breakfast. For other meals, nearby options include Green Vegetarian Cuisine and the 24-hour Lulu's Bakery and Cafe, which serves traditional American diner food. The Witte Museum, which includes exhibits on natural history, south Texas history and science, is a 10-minute drive from the hotel. A five-minute drive from the Rodeway Inn, the San Pedro Playhouse stages drama and musicals.
The Antonian
A 10-minute drive from San Antonio's Airport and a five-minute drive from the zoo, the Antonian has 88 rooms and suites, some with jetted tubs. The hotel's heated outdoor pool is surrounded by greenery. The Antonian provides breakfast only, but Johnny's Seafood, Simple Chinese and Two Peppers Italian & Mexican are all a few steps from the hotel. The 18-hole Brackenridge Municipal Golf Course, set in the same large park as the zoo, is a five-minute drive from the hotel.
Super 8 Downtown River Walk
The Super 8 Downtown River Walk is a 10-minute drive from the zoo and five minutes from downtown, making it a convenient budget option. The hotel provides only breakfast, included in the room rate, but a good selection of restaurants surround the area. These include El Nogal, serving Mexican food, and Mary Ann's Pigstand, offering traditional American favorites. The San Antonio Museum of Art, including contemporary and ancient art exhibitions, is two blocks from the hotel.
Crockett Hotel
Housed in a landmark San Antonio building from 1907, with 20th-century additions, the Crockett Hotel is a 10-minute drive from the zoo. The hotel overlooks the Alamo, and is a short stroll from San Antonio's River Walk. Guests take breakfast at the hotel, and its downtown location offers many lunch and dinner options. A branch of Morton's Steakhouse sits around the corner. Five minutes away, the Liberty Bar offers a sophisticated Tex-Mex menu.
Photo Credits
pierce the clouds image by Alexey Stiop from Fotolia.com