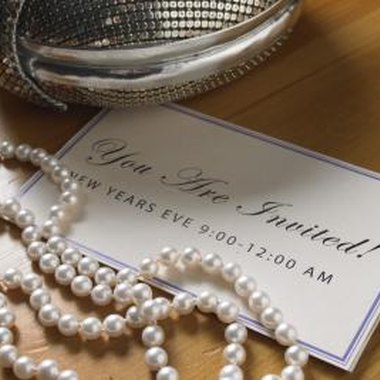 Deciding what to write in an invitation card can be a daunting task if you're an inexperienced writer because you will want to ensure that the words come together to create a meaning that properly signifies the event you're inviting others to and at the same time makes them want to attend. However, with a little planning and some trial and error, you'll be able to find the perfect wording for your invitation cards.
Formal Wording
On formal invitations for weddings or other important events such as dances or dinners, formal invitation wording is typically used in order to stay in line with the integrity and uniqueness of the event. For example, a common phrase used is that someone, whether it's an organization or the parents of the bride, "requests the honor of your presence at ... ." Other types of formal wording examples include "your presence is requested at ..." or "you have been selected to attend ... ."
Informal Wording
Some types of invitations don't require formal wording, and many times the event being held doesn't fit right with formal phrases. These types of events include fun get-togethers with family and friends, birthday parties, bachelor or bachelorette parties, goodbye parties and a number of other types of parties. The wording doesn't have to be long and drawn out, and it's often easier to understand the shorter it is. You can say things such as "Join us for some burgers, drinks and cakes for Joe's birthday" or "Let's get together, exchange some stories and just enjoy life together for an afternoon."
Date and Location Information
The most important part of an invitation is telling the guests when and where the event is so that they'll show up for the celebration. One of the easiest ways to do this is by creating a simple list with "Date:, Time:, Location:" or by simply listing out the information. However, you can also get creative and provide this information in a narrative. For example, if it's an invitation for a girl's birthday party, you can write "Once upon a time, a princess named Sophie decided to host a tea celebration at her house for her and all of her friends in honor of her birthday. They all came to her house at 2:00 on Saturday afternoon in their prettiest dresses and ate cakes, played games, and had a really fun time."
Special Information
If your guests need to know any additional information besides the time, date and location, include it at the end of the invitation. For example, if they need to know anything special about parking, places of registry, gifts or RSVP, include the information inside the invitation itself. You can do this by simply writing a sentence giving the basic information they need to know. Say things such as "Please park behind the building upon arrival and walk to the front entrance" or "In lieu of gifts, please bring donations for a favorite charity."
Photo Credits
Dick Luria/Photodisc/Getty Images