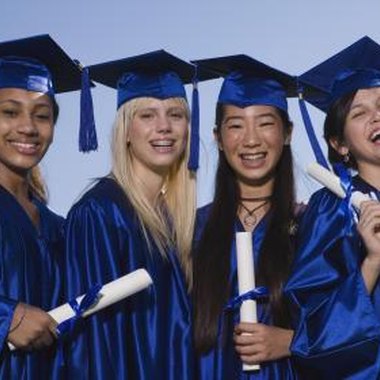 Graduating from high school or college is a major accomplishment to be celebrated, but buying professionally printed graduation invitations can get pricey. Making your own invitations is cheaper and allows you to reflect your own personality. Here are a few examples of wording for your announcements, ranging from traditional to lighthearted. Simply replace the personal information with your own, and let the party begin!
Formal from the Graduating Class
The North University Graduating Class of 2012 cordially invites you to attend its Commencement Exercises on June eleventh two thousand twelve at two o'clock in the afternoon North Memorial Auditorium, Northfield, Rhode Island Note: Invitations with this type of wording traditionally are sent with a small card printed with the name of the graduate. Make your own name cards to match your invitation, and include one in each envelope when you mail them.
Formal from Parents of the Graduate
Mr. and Mrs. David Jackson are pleased to announce the Graduation of their son Mark from Pleasant Valley Academy on the fifth of May two thousand and twelve at two o'clock in the afternoon 201 Spring Street Clark, Vermont
Casual from the Graduating Class
We're on our way to bigger and better things! Please join us for our Middle School Graduation Ceremony June 11, 2012 at 3 p.m. Center Middle School Gym Main Street, Springfield
Casual
The Class of 2012 of City High School is proud to announce its Graduation Exercises 11 a.m. on June 18, 2012 at the Team Field 201 Spring Street Clark, Vermont Please join us as Sarah celebrates her achievements!
Lighthearted
Hats off to our Graduates! It is our privilege to invite you to join us as we celebrate Esmeralda's graduation from Pleasant Valley Academy The festivities will take place at 10 a.m. on the High School soccer field, 201 Spring Street, Clark, Vermont (Go Wildcats!) Bring a lawn chair, sunscreen and a fun hat After all, if the graduates have to wear silly hats, you should too!
Photo Credits
Jupiterimages, Brand X Pictures/Brand X Pictures/Getty Images