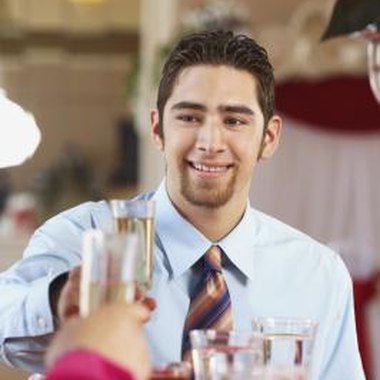 The rehearsal dinner before a wedding is typically for the bridal party and immediate family. Often, the rehearsal dinner takes place the evening before the wedding and follows the rehearsal of the wedding ceremony. The wording of the invitation should be in keeping with the tone and theme of the evening. From formal and elegant to homey and casual, let your guests know what to expect at the rehearsal dinner by clearly wording your invitation.
Introduce the Hosts
Begin by introducing the hosts of the evening and dinner. The hosts may be the groom's or bride's parents or the wedding couple themselves. For example, "Mr. and Mrs. Jones request the honor of your company at the dinner following the rehearsal for Charles and Lacey's wedding." If there are multiple hosts or blended families, simply write "Together with their families, Lacey and Charles invite you to join them at dinner following their wedding rehearsal."
All the Details
Include the exact address and location of the rehearsal dinner. It may be difficult to pinpoint the exact time, since often it is impossible to know how long the rehearsal itself will last. Simply write something like "Dinner will immediately follow the wedding rehearsal at St. Theresa's Church."
Attire and RSVP
If the rehearsal dinner is more formal, you may want to include a response card and stamped response envelope. If it is a more casual event, instruct guests to call or email with their response to one of the hosts. Whether you are doing a buffet or sit-down-dinner, nearly all caterers will need to know an exact count of attendees within a few days of the dinner. Specify the type of attire as well. If there is a particular theme or costume expected, or if the evening will be especially formal, let guests know.
A Map or Detailed Directions
Include detailed directions or a map to the dinner location. If most folks will be coming to the dinner from the church or rehearsal location, include the map from that spot. Do not plan to rely on guests following one another. Explicit directions will help out-of-town guests feel less anxious and keep frustration and late attendees to a minimum.
References
"Wedding Occasions: 101 New Party Themes for Wedding Showers, Rehearsal Dinners, Engagement Parties, and More"; Cynthia Lueck Sowden; 1990
"The Smart Guide to Wedding Weekend Events (Smart Guides)"; Sharon Naylor; 2011
Photo Credits
Creatas Images/Creatas/Getty Images