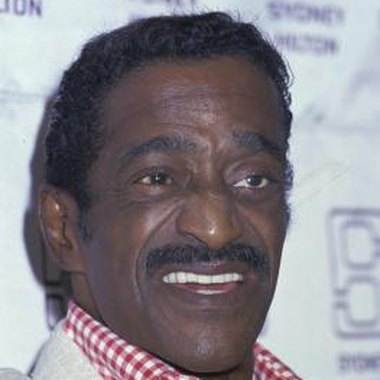 In May 1990, the Las Vegas Strip went dark for 10 minutes to honor one of America's premier entertainers, Sammy Davis Jr. Davis began his professional life on a vaudeville stage tap dancing at the age of 3 and spent the next 61 years singing, dancing, impersonating and acting for an often racially prejudiced public. Tutored in tap by his father, Sammy Sr., and partner, Will Mastin, and advised by the immortal Bill "Bojangles" Robinson, Davis spent his entire life on stages, in films and on television. Fred Astaire once said of Davis, "Just to watch him walk on stage was worth the price of admission."
Learning the Craft
Davis referred to his tap dancing skills as "a hand-me-down art form" because he was never formally trained in any aspect of dance. He learned by watching and imitating his father, Mastin and other professionals he came in contact with every night on vaudeville stages across the country. According to Davis, he remembered everything he saw, including timing, audience reaction to certain moves and how to direct the mood of the audience with facial expressions and gestures.
Developing a Style
At the age of 10 Davis first saw Bill "Bojangles" Robinson on stage in Boston, which changed Davis' whole approach to tap dancing. The Mastin Trio danced fast and flashy, often exhausting themselves by the end of their set, but Robinson's tap dancing was relaxed, smooth and apparently effortless. Davis learned about style from Robinson. "What Bill Robinson really taught me was that when you're a tap dancer you talk to the audience with your feet," Davis said.
Keeping it Fresh
During the mid-1940s, Davis freshened his interaction with audiences in an effort to connect on a more personal level and avoid appearing like he was just going through the motions. In an interview with Johnny Carson in 1982, Davis admitted to "digging deep" to keep every performance fresh. He said he realized not every member of every audience had seen him perform before, so he wanted them to experience the best he had to offer.
The Legacy
Before his death, Davis publicly applauded the fact that young people were undergoing formal tap dance training. He did belatedly acknowledge the practice of warming up and stretching before performing, referring to possibly avoiding his 1987 hip replacement surgery if he'd realized its importance. Davis left little in the way of actual advice, but films and videos of his more than 60 years of evolving tap dancing styles survive, as do several autobiographies and biographies.
Photo Credits
Patrick Riviere/Getty Images Entertainment/Getty Images