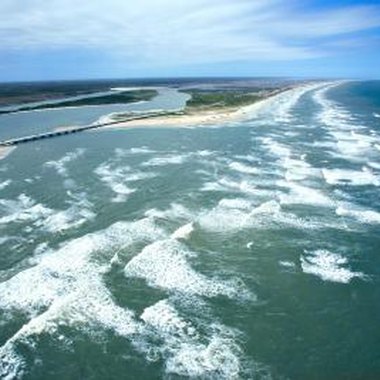 Since 1971, seafood lovers flock to Saint Augustine for northeastern Florida's biggest seafood festival. For three days, every March, the Lions Club of Saint Augustine hosts this entertaining event, which lets family and friends enjoy delicious seafood, great music and a fun atmosphere while raising money for a good cause.
When & Where
The St. Augustine Lions Seafood and Music Festival has been a tradition since 1971. The festival takes place for three days, allowing friends and families to spend an afternoon or an entire weekend taking part in the festivities. In 2012, the event is scheduled for March 16 through18. The festival takes place at Francis Field, located at 29 Castillo Drive. This site is conveniently located next to the Visitor Information Center in downtown Saint Augustine.
Seafood
Since every food vendor must be invited to serve at the festival, guests can be sure they are dining on the most delicious seafood around. The festival covers a range of cuisines, such as Creole, Cajun or deep-fried Southern favorites. Seafood lovers will be in heaven sampling the variety of seafood dishes, like grilled octopus, blackened fish, jambalaya, crab cakes, chowders, popcorn shrimp, lobster fritters, and seafood kabobs from vendors such as The Laughing Crab and Tony's Cedar Key Chowder. Guests who don't care for seafood can enjoy standard summer festival food such as hot dogs or burgers.
Other Events & Attractions
If mouth-watering seafood isn't enough to lure guests in, the festival offers a number of other attractions. Music lovers can listen to live music, from country bands to bluegrass performers. Between seafood dishes, browse through the sea of vendors displaying their arts and crafts, like handmade pottery and blown glass. Enter a raffle and win some great prizes. Keep the children busy, too, with a moon bounce, human hamster water ball ride, face painting, rides and other kid-friendly activities.
Cost, Contact & Other Details
The St. Augustine Lions Seafood and Music Festival gives all of its net proceeds to Lions Club charities. Daily admission costs $2 for adults. Children who are 12 years or younger and entering with a paying adult are admitted for free. For more information, call the Saint Augustine Lions Club at 904-825-0850. Pets and coolers will not be allowed onto the festival grounds.
Photo Credits
Jupiterimages/Photos.com/Getty Images