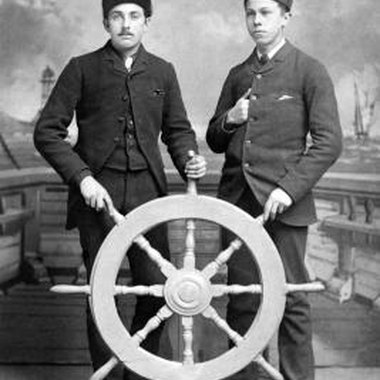 Sailor parties are perennial favorites for kids both way too young and way too old to enlist in the Navy. Whether you're throwing a Popeye-inspired party for a youngster's birthday or one that truly salutes the sailors in uniform, the food, beverages and treats you serve carry the theme.
Appetizers and Treats
For the adults snacking at your party, a sailor theme calls for some form of shrimp appetizer, such as shrimp dip or shrimp cocktail. For the younger party goers, set out various flavors of goldfish snacks. Cut homemade cookies into fish, ducks, crocodiles, whales, lobster, starfish, seals and any other type of sea creature you can find in a cookie cutter, then unleash your creativity with the frosting. You can even turn the party guests loose with the decorating bags and let them add the details to their own cookies.
Blue Beverages
Blue, both the color of the sea and the official color of the navy, makes a natural choice for a sailor-themed beverage. Try adding blue food coloring to the water before you freeze the ice cubes, then float the cubes in clear soda served in clear glasses or plastic cups. Kids love watching their drink turn blue as the ice cubes melt. If you have a large punch bowl usually reserved for adult parties, make a kids' punch with blue juice or drink mix, then float a toy boat in the punch.
Sailboat Plates
Little nautical plates charm the littlest party goers. Place an apple slice on a plate so it looks like a boat bottom. Cut a cheese slice in half diagonally so you have two triangles. Place one on the plate so it looks like a sail on the boat. Add peanut butter to the apple slice and sprinkle some raisins on it for people on the boat. If you have squeeze bottle condiments, make little V shapes above the sail in mayonnaise or ranch dressing to look like seagulls.
Cakes
Every party needs a cake; you can order a sailor-specific one from a local bakery. Request decorations such as a steamboat, a tall ship with sails, a luxury liner, or Popeye himself drawn in frosting. To keep it simpler, bake your own cake and decorate it like the beach. Start with a round layer cake or a sheet cake with white frosting. Sprinkle light brown sugar on it to look like sand. Frost the top in blue and add a bright yellow sun made of sprinkles. Add little plastic beach chairs, umbrellas and seagulls. If you feel really ambitious, make a cake shaped like a life preserver. Cut the center out of a round cake and cover the remaining circle with white frosting. Add a red cross and licorice ropes.
Photo Credits
Thinkstock/Comstock/Getty Images