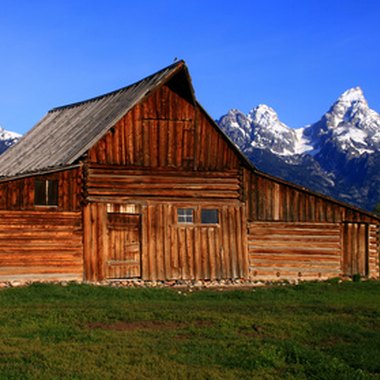 With its century-old homesteads, big blue skies and snow-capped mountains, Grand Teton National Park provides the setting for truly getting away from it all. Visitors to the Tetons who wish to complement the scenery with simple, rustic lodgings need not resort to the rigors of camping, as rustic accommodations are available at a handful of park lodges and historic ranches.
Considerations
Travelers to Grand Teton National Park with a specific interest in rustic lodgings should focus on rental cabins. The park's lodges offer a range of hotel- and motel-style rooms, and for the most part these are too modern and/or too luxurious to provide a properly simple and old-fashioned atmosphere. Another consideration for lodgings within the park is location. The park covers more than 480 square miles, so visitors with particular interests inside the park should consult a map before choosing their rustic cabin, lest they find themselves and their trailhead or fishing hole of choice separated by 15 miles of winding roads.
Grand Teton Climber's Ranch
Operated by the American Alpine Club for the benefit of hardy climbers pursuing the challenges of the Teton Range, the Grand Teton Climber's Ranch is among the most rustic lodgings found in the park. Accommodations consist of co-ed log cabin bunkhouses that sleep between four and eight guests, with shared bathing and cooking facilities. Although the ranch's bathhouse has hot showers, the setting is quite spartan and just one step above camping.
Moulton Ranch Cabins
Moulton Ranch offers its guests small, rustic cabins that provide visitors with what Frommer's described as "an off-the-beaten-track alternative to the bustling developments on Jackson and Jenny lakes," as well as a location adjacent to one of the park's most photographed features, the Moulton Barn. The seven cabins available at the ranch are simple but comfortable affairs, some of which date back to the 1930s and have origins as log farm buildings.
Signal Mountain Lodge
Located on the southern shores of Jackson Lake, Signal Mountain Lodge offers a range of accommodations from modern hotel-style rooms to rustic one- and two-room log cabins. Although all the log cabins come with handmade pine furnishings that enhance their old-fashioned atmosphere, travelers with a particular interest in accommodations with a rustic flavor should try to book one of the eight one-room cabins situated in shady, secluded areas and which come with gas fireplaces.