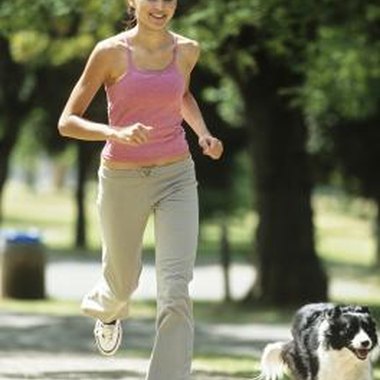 Year after year, Ann Arbor is named one of America's most livable cities. While perhaps best known as home to the University of Michigan, Ann Arbor also has desirable features beyond educational opportunities. For runners, or those who are just generally health conscious, Ann Arbor offers a plethora of running trails, as well.
Gallup Park
Gallup Park is commonly referred to as Ann Arbor's most popular recreation area. Located along the Huron River, it provides more than three miles of paved trails suitable for biking, rollerblading, walking and running. There are two loops measuring 1.35 miles and 1.65 miles, respectively. There also a couple of one-mile trails that run along the water. Trails at Gallup Park offer quarter-mile markers throughout to help you pace your run.
Matthaei Botanical gardens and Nichols Arboretum
The Matthaei Botanical Gardens offer runners a beautiful backdrop for their run. There are more than eight miles of trails available for walkers and runners at the gardens. All of the trails form loops back to the visitor center. There are several entrances to the gardens and trail maps are available at the Arboretum. Admission to the gardens and arboretum is free of charge and they are open seven days a week.
University of Michigan Campus
The University of Michigan campus in Ann Arbor is hilly and green and offers a challenging, yet beautiful, run around the North Campus. If you start your trek from the downtown area, you can jump on the course by running up Broadway Hill, and more hills will be in your path unless you start the trek downhill on Murfin. The paved paths cut through the campus and return you downhill to the downtown area.
Bandemer Park
Bandemer and Argo Parks offer paved running paths along the Huron River. The routes are mostly flat near the Bandemer Park and become hillier as you run approximately three miles up Longshore Drive. Runners will find the convenience of restrooms and water stops along this route. Prior to becoming a park, the area was formerly used as pasture land and railroad stockyards. Brochures that detail the running paths, as well as restrooms and water stops, are available online.
Photo Credits
Stockbyte/Stockbyte/Getty Images