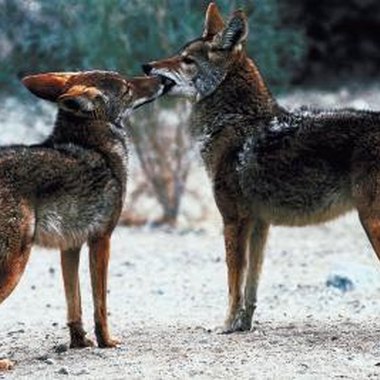 Illinois is well known for its abundant coyote population. According to the Illinois Department of Natural Resources, an average of 7,000 coyotes are killed each year. While most farmers welcome the help to keep coyote populations down, ask permission to hunt coyotes on private property. Also keep yourself educated on the laws and regulations for coyote hunting and trapping as regulations and hunting hours can change from year to year.
Coyote Hunting Rules
Coyotes may be hunted in Illinois all year and there are no limits to the number of coyotes taken. Illinois coyotes can be hunted 24 hours per day during prime hunting season from mid-November to mid-January. These dates change yearly, so check the Illinois Department of Natural Resources website yearly. Hours for coyote hunting in the off season are from a half hour after sunrise to a half hour after sunset. Calling devices and bait can be legally used to entice coyote. There are no restrictions on the type of scope or lenses used to hunt coyote. Coyotes can be shot with any type of handgun, rifle or automatic shotgun with any type of ammo except for slugs. Coyote hunters are required to wear at least 400 sq. in. of orange when hunting coyotes during deer-hunting season.
Trapping Rules
For locations in northern Illinois, trapping season beings in early November and ends in mid-January. For southern Illinois locations, trapping begins a little later in November and ends late January. Always refer to the Illinois Department of Natural Resources website for correct dates. The hours to trap are unlimited with the exception of opening day, which starts a half hour after sunrise. There is no limit to the number of coyote that can be trapped in one season.
Bow Hunting Rules
During Illinois deer hunting archery season, coyote bow hunting is allowed from a half hour before sunrise to a half hour after sunset.
Illnois Hunting License
Illinois licenses and stamps for hunting and trapping are good from Jan. 1 of the year the license was issued through Mar. 31 of the following year. Hunters and trappers are required to carry their hunting license or stamp on their person at all times. You must be able to show your Illinois hunting license to any authorized law enforcement person that requests to see it. An Illinois hunting license can be obtained online (see Resources), or at various authorized vendors across the state of Illinois.
Photo Credits
Jupiterimages/Photos.com/Getty Images