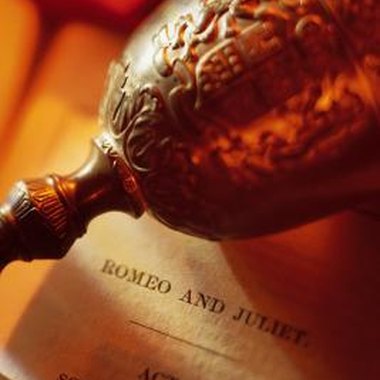 "Romeo and Juliet" has inspired many composers and songwriters throughout modern musical history. From Hector Berlioz's dramatic symphony and Sergei Prokofiev's famous ballet to Duke Ellington's conceptual jazz piece and Dire Straits' iconic rock ballad, the play has been adapted to virtually every musical genre. Music historian Eve R. Meyer identifies 24 operas based on William Shakespeare's "Romeo and Juliet," the most famous of which is Charles Gounod's popular "Romeo et Juliette."
Background
Premiering in 1867, "Romeo et Juliette" was Gounod's next project after the success of his "Faust." "Faust," which premiered in 1859, proved one of the most successful operas in the history of the Theatre Lyrique in Paris, prompting director and impresario Leon Carvalho to request a new opera from Gounod. Gounod produced an opera about the two lovers, who sing four duets, which remains essentially faithful to Shakespeare's play.
Synopsis
The opera features a French libretto by Jules Barbier and Michel Carre. Their adaptation follows the action of Shakespeare's play. A chorus announces the lovers' eventual doom in a prologue. In Act I, Romeo meets Juliette at a feast given by her father, and the two fall in love instantly. They agree to marriage after meeting on Juliette's balcony. Friar Laurence marries them, but tragedy ensues when Juliette's cousin Tybalt kills Romeo's friend Mercutio and is slain, in turn, by Romeo. Romeo flees the city, and Juliette finds herself being forced to marry Paris. To avoid this, she drinks a potion that makes her appear dead. Romeo believes her to be dead and poisons himself. When Juliette awakes, she in turn stabs herself.
Music and Parts
Gounod's opera calls for 13 singers: two sopranos, one mezzo-soprano, three tenors, three baritones and four basses. The two singers, a tenor and a soprano, who take the parts of Romeo and Juliette, sing four duets, including the famous "O Divine Night" and "Go! I Have Forgiven You." Other musical highlights include the baritone Mercutio singing a ballad, "Mab, the Queen of Lies" and Juliette's ariette "I Want to Live."
Reception
"Romeo and Juliette" achieved success upon its first performance at the Theatre Lyrique in 1867. At this and many other early performances, Carvalho's wife Marie Caroline took the role of Juliette. In the same year, the opera also premiered in London and New York, and it has has been popular in revival since. Roberto Alagna and Anna Netrebko sang the title roles during the 2011 season when the opera numbered among the offerings at the Metropolitan Opera in New York.
References
"The Theatre-Lyrique Paris"; T.J. Walsh; 1981
Photo Credits
Comstock/Comstock/Getty Images