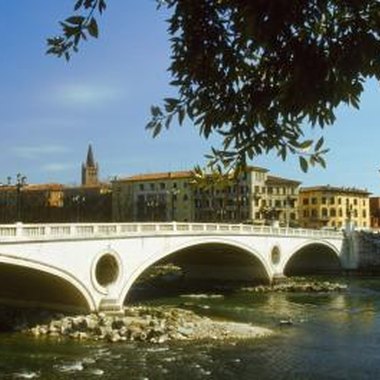 It's difficult to think of a more romantic place than Verona, Italy. As the home of William Shakespeare's star-crossed lovers, Romeo and Juliet, Verona has earned a reputation for bursting with love and romance. Couples visiting Verona find many romantic ways to spend their time.
Stroll
A romantic stroll down the meandering cobblestone streets of Verona will quickly make you understand why so many people consider Verona one of Italy's most beautiful cities. Wander the streets, hand in hand, admiring ancient, impressive architecture. After some exploration, head over to Piazza del Signiori, which has an octagonal bell tower, Torre dei Lamberti. Climb to the top for a view that can't be beat: a stunning panorama of the city.
Juliet's Balcony
While it is debatable whether Romeo and Juliet from Shakespeare's famous tragedy were real, many travelers visit spots dedicated to the famous Capulet girl. Act out a favorite scene from the play or simply have a picture taken atop Juliet's balcony at Casa di Giulietta. For an entrance fee, couples can head inside the home and admire a collection of belongings that date back to the 13th century, the period in which "Romeo and Juliet" took place. Romantics who are moved by the famous play can also visit La Tomba di Giulietta, where they can see the hypothetical location of the famous couple's suicides.
Cafe
Whether at the start of the day or for a midafternoon break from a long morning of sightseeing, stop by one of Verona's cafes for a romantic experience. While some diners at Antico Caffe Dante may opt for the elegant dining room, try grabbing a seat outside for al fresco dining in the piazza (caffedante.it). With its position in the heart of the historic part of town, diners can take in the beauty of the city while enjoying a cappuccino or an Italian dish. Aquila Nera Cafe is another place to grab an apertivo (aquilaneraverona.com). It is only a short walk from Piazza delle Erbe and the arena.
Arena
While the treacherous events that occurred in Roman arenas thousands of years ago may not be very romantic, the ancient structure now makes a romantic place to go sightseeing. Verona's stately arena, constructed in 30 A.D., is the third oldest in Italy. Despite its age, the arena is the venue for seasonal opera productions, which take place during summer. Now lovebirds can appreciate the size and history of this commanding structure while spending a lovely evening at the opera.
Resources
Photo Credits
Medioimages/Photodisc/Photodisc/Getty Images