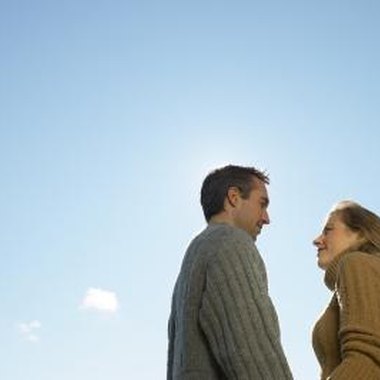 A California Gold Rush town proud of its pioneer origins, Nevada City is the site of a number of historic landmarks. Though just an hour by car from California's busy state capital Sacramento, Nevada City had a population of just 3,088 people at time of publication. A city with the the look and personality of an old mining town, it's an ideal destination for a family vacation as well as an old-fashioned romantic getaway.
Walk Through the Downtown District
Pick up a map of the city from the Chamber of Commerce -- also a historic building -- on Main Street or just wander through the charming streets of the downtown district. Begin with Firehouse No. 1. Once home to a fire department that relied on horse-drawn wagons, it's now a museum as well as one of the most photographed buildings in town. Enjoy a drink under the chandeliers of the Victorian style National Hotel on Broad Street. Constructed in 1856, it's full of artifacts and antiques. Catch a play or concert at the Nevada Theater, where for the last 150 years thousands of shows have been performed.
Wine Tasting
Nevada City features a number of wineries where distinctive local wines can be sampled. Browse the rustic crafts at the Nevada City Winery Tasting Room gift shop while you sip. Make a toast to each other surrounded by floor-to-ceiling wine barrels at Szabo Vineyards. Taste some of the most inspired wines to come out of the foothills at Double Oak Vineyards & Winery on Blind Shady Road. Don't forget to stop by Indian Springs Vinyard for a complimentary tasting and some light shopping. It's right downtown.
Biking
A multitude of scenic trails lie within easy driving distance of Nevada City. Rent bikes from Tour of Nevada City Bicycle Shop on Sacramento Street. Cycle side by side along Allison Ranch Road in Grass Valley. Ten miles of picturesque farmland, the trail includes a picnic area along a creek. Cycling Bitney Springs Loop will give you up-close views of the beautiful South Yuba River. Appreciate the farms and ranches along LeMond Loop. Best yet, the trail conveniently leads back into historic Nevada City.
Eats
There are a variety of spots in Nevada City where a couple can share a special meal or dessert. The Old 5 Mile House on Highway 20, just five miles from downtown Nevada City, serves roadhouse food with an international flair. Enjoy the exquisitely prepared organic vegetables and free range meats at Simplicity Bistro on Main Street. Feed each other chocolates at the famous Truffle Shop or handmade toffee at Sierra Sweets.
Photo Credits
Hemera Technologies/AbleStock.com/Getty Images