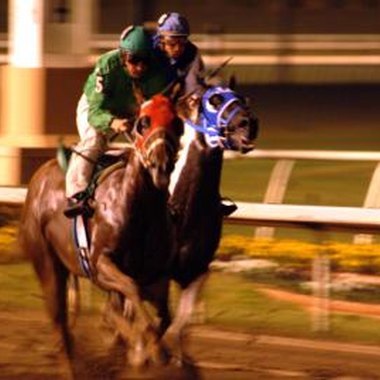 If you were to make a list of the top romantic cities in America, you would be unlikely to add one that locals call "The Horse Capital of the World." Lexington, Kentucky, rightfully earns its title with a host of horse farms and racing tracks in the heart of Bluegrass country, but doesn't elicit the hand-holding imagery of a lover's paradise. Despite seemingly contrary evidence, Lexington is home to a number of romantic retreats for an adventurous couple.
Romantic Walks
Lexington's primary geological attraction, The Red River Gorge Geological Area, offers a number of lovely vistas and trails for an adventurous couple. This region hosts the largest number of natural arches east of the Rocky Mountains, providing year-round texture to the landscape that will certainly spark conversation. This locale also blooms with new life in the spring and blazes with color during the fall -- providing a stunning backdrop for a romantic traipse through a not-so-wild wilderness.
Bed and Breakfasts
Although Lexington is not a haven of bed-and-breakfast style inns, the offerings in this city provide a memorable experience for the couple seeking a romantic getaway. For those seeking centrally located comfort near the city's finest dining, Lyndon House (lyndonhouse.com) is an elegant blend of urban conveniences such as Wi-Fi Internet and country couture. For couples seeking a more rural experience, Swann's Nest (swannsnest.com) serves the romance of rolling green pastures and serene fish ponds in addition to a home style Bluegrass breakfast while you take in the scenery.
Downtown Attractions
Lexington features a variety of attractions ideal for entertaining couples as they stroll through the downtown area. For the nature lovers, The Arboretum (ca.uky.edu) is a must-see oasis of calm and natural beauty in the midst of the city sprawl. The Mary Todd Lincoln House is a historic respite that celebrates the life and love of the famous first lady. The Kentucky Bourbon Trail (kybourbontrail.com) offers a taste of the captivating history and sweet Southern comfort of six signature distilleries from the Bluegrass Country.
Fine Dining
Lexington may be best known for horse racing, but with such an amazing number of fine-dining choices you will never lose by taking advantage of the many romantic eateries. Whether you are looking for traditional steak-and-potatoes dinners or the adventurous taste sensations of foreign cuisine, you will find a number of elegant choices to titillate your taste buds and set the stage for an evening of romance. Restaurants such as Bella Notte (bellalexington.com) bring the flavors of Italy to your plate at hometown prices. For those seeking a more exclusive experience, the authentic French cooking of A la Lucie (alalucie.com) will thrill even the most sophisticated palate.
Photo Credits
Jupiterimages/Photos.com/Getty Images