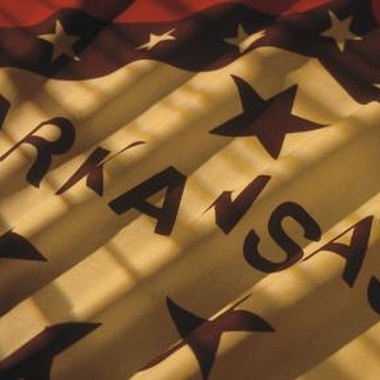 In addition to being rated as one of America's thriving small towns by "Forbes" magazine, Fayetteville, Arkansas, set amid the Boston Mountains, is also a city for romantics. Between outdoor splendor, nightlife hot spots and places that pamper, it's not difficult to find locations that inspire an amorous mood.
Accommodations
A historical inn known for its elegance, The Inn at the Mill (innatthemill.com) provides wine, fruit and cheese with every reservation. In addition to its king-sized guest rooms that have marble bathrooms, the inn has themed accommodations such as the Claude Monet suite that is decorated with the artist's paintings and French antiques. There are also two suites that are multileveled and have Jacuzzis. The Pratt Place Inn (prattplaceinn.com) offers a Sweetheart Package. The two-night package comes with a bottle of chilled Perrier-Jouet champagne, massages for two and floral bouquets.
Spas
There is always something deliciously romantic about being pampered. Having been voted "Best Day Spa" and "Best Salon" in 2010 by "Citiscapes Magazine," The Papaya (thepapaya.net) offers such romantic packages as Loved, which is a stone massage that lasts an hour and includes a facial, and the Spa for Two that gives couples an hour-long chakra massage to harmonize a body's mental and physical state. At the White Lotus Salon and Massage (whitelotussalonandmassage.com), couples can indulge in the Tea for Two treatment that provides facials, massages, manicures and pedicures.
Restaurants
There are a plethora of romantic dining establishments in Fayetteville. Among them is Bordinos (bordinos.com). One reservation choice is First Seating, where the first and second courses are topped off with dessert and wine pairing. Entrees include petite Caesar salad, chicken in a marsala cream sauce and white chocolate creme brulee. Theo's Bar & Dining Room (theosfayetteville.com) is another elegant choice. In addition to having both lounge and patio seating, Theo's also has, as of the time of publication, martini night on Thursdays and wine night on Tuesdays. Its sumptuous dinner menu includes spiced filet of ahi tuna with wasabi mashed potatoes and duck confit with butternut squash ravioli.
Nature
For those who find romance in Mother Nature, there are the Botanical Gardens of the Ozarks (bgozarks.org). Couples can tour the vegetable and herb gardens, a Japanese garden, a rose and perennial gardens, a butterfly house and an area featuring flowers indigenous to Arkansas in the gardens' 86 acres. There is also a Rotary Peace Arbor that is often the site of weddings and receptions.
Historical Site
Famous wedding sites are always romantic. Not only is the Clinton House Museum the first home of former President Bill Clinton and U.S. Senator Hillary Clinton, but also its living room was where they married in 1975. In addition to viewing a replica of Hillary's wedding dress, visitors who are enthusiastic about politics can read some of Bill Clinton's early speeches.
Photo Credits
Stockbyte/Stockbyte/Getty Images