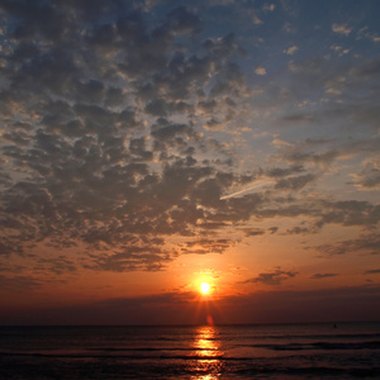 Virginia features different types of locations for romantic vacations, including places that sit within Blue Ridge Mountains. During the summer, couples can spend a weekend or longer in destinations with beaches, such as Virginia Beach. Virginia also has romantic resorts in cities with historic sites, such as Williamsburg. Many resorts within Virginia offer amenities that couples on romantic getaways will enjoy, such as guest rooms with hot tubs or spas with massage treatments.
Virginia Beach
Virginia Beach serves as a popular destination for swimming because of its beaches, which include Chesapeake Bay Beach and Sandbridge Beach. Couples can also leave on a fishing charter, dolphin-watching, boating or kayaking trip from Virginia Beach. Holiday Inn and Suites North Beach Hotel features a water park with a lazy river, where couples can float together on inner tubes. Virginia Beach's resorts offer amenities such as restaurants with a wide array of wine and pasta choices, private beaches, gardens, spas with Swedish and Thai massage treatments or guest rooms with fully furnished patio areas. At Turtle Cay Resort, couples have a choice of eating at a seafood restaurant with outdoor fire pits or a four-diamond restaurant with a terrace area that overlooks the Atlantic Ocean. Guest rooms at the Founders Inn and Spa feature views of the hotel's garden area, through which couples can take a walk.
Williamsburg
Williamsburg, a city that served as the capital city of the Virginia Colony from 1699 to 1780, features a collection of restored homes, taverns, plantations and shops from the 1700s. The city also has a museum dedicated to Jamestown, the first English settlement in the United States. In Williamsburg, couples can stay in fully furnished suites, guest rooms with antique decorations or cottages with hot tubs. Some vacation houses at the Williamsburg Plantation resort feature private saunas for couples. The Historic Powhatan Resort has cottages with balconies that overlook the resort's wooded areas. Resorts in Williamsburg have amenities for couples such as day spas, indoor and outdoor hot tubs, tennis courts, nature trails, or tavern restaurants.
Cape Charles
Cape Charles, a town located on the Eastern Shore of Virginia, features a public beach for couples who want to go swimming with their partners. At the town's public pier, couples can try to catch bass or trout. Cape Charles' resorts offer accommodations ranging from suites to condominiums and vacation homes. Cape Charles' Bay Creek Resort and Club has suites with views of Chesapeake Bay, gas fireplaces and balconies for couples out to have a relaxing vacation. The town's resorts offer amenities for couples that include private swimming beaches, fishing charter trips or bars with live entertainment. A 1913 railroad car, on which couples can eat dinner, leaves from the Bay Creek Resort and Club. The Sunset Beach Resort Hotel features a beachfront pub restaurant with live musical acts and an on-site beach with gazebos and tables for picnics.
Abingdon
Abingdon, a town found in the Blue Ridge Highlands, is home to part of the Virginia Creeper Trail, a 35-mile-long trail where couples can go horseback riding. The town, which has been around since 1778, also features historic taverns, mills and homes. Abingdon is home to the Martha Washington Hotel and Spa, a resort that served as a family home in the 1800s. At the resort's American-style restaurant, couples can chat by a fireplace or slow dance together on a dance floor. On Fridays and Saturdays, the hotel hosts live cabaret acts. For couples, the resort also has a saltwater pool, fire pit and two outdoor hot tubs. Some guest rooms at the hotel come with a tea service or sleigh beds.
Photo Credits
the sunrise at virginia beach image by Gary from Fotolia.com