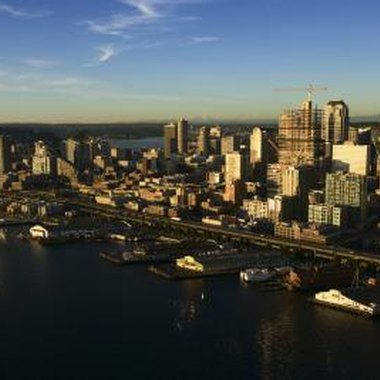 The western Washington state area, also known as the Pacific Northwest, is full of beauty, including backdrops and vistas such as cityscapes, waterways, national parks and mountains, thus making it a gorgeous spot to hold a wedding ceremony. While what you might define romantic to be is relative to your personal taste and relationship, the western Washington region provides a plethora of romantic sites that cater to various styles and tastes of brides and grooms. Seattle, Olympia, Port Townsend and Olympic National Park are just a few of the main destinations in the western part of the state.
Seattle Area
Seattle provides a solid backdrop for a metropolitan style wedding with a line of skyscrapers including the iconic Space Needle. There are a variety of locations available in this city for couples to exchange their vows, including hotels such as The Grand Hyatt (grandseattle.hyatt.com), The Sorrento Hotel (sorrentohotel.com) and the Pan Pacific Hotel (panpacific.com). Other venues include The Harbor Club (harborclub.org), The Woodland Park Zoo (zoo.org), The Seattle Space Needle (spaceneedle.com) and a many religious facilities and houses of worship.
Olympia Area
The Olympia, Washington area offers a variety of farms, wineries and nature preserves as a backdrop for getting married. Places for nuptials include Enumclaw Expo Center Field House (enumclawexpocenter.com), The Chapel on Echo Bay (foxislandchape.net), Pine River Ranch (prranch.com), Silvara Vineyards (silvarawine.com), The Manor (manoronwashington.com) and Farm Kitchens (farmkitchen.com), as well as a variety of houses of worship, chapels and other religious buildings.
Olympic National Park Area (La Push, Kalaloch and Port Angeles)
The Olympic National Park (olympicnationalparks.com) area includes the cities of La Push, Kalaloch and Port Angeles. The park includes a variety of settings and venues for wedding ceremonies and receptions including Lake Quinault Lodge, Kalaloch Lodge, Sol Duc Resort and Lake Crescent Lodge. The park also offers plenty in the way of recreation for wedding guests including several rain forests, a lake, beaches, a waterfall trail and views of Hurricane Ridge.
Port Townsend Area
The Port Townsend area of western Washington includes a variety of Victorian homes, state parks, and water related activities such as whale watching. The area is also home to a plethora of ceremony and reception venues for weddings including several Washington State parks (parks.wa.gov), Manresa Castle (manresacastle.com), Jenne Farm (jennefarm.homestead.com), Admiralty Head Lighthouse (admiraltyhead.wsu.edu) and Forget Me Not Farms (forgetmenotfarms.org).
Photo Credits
Thinkstock/Comstock/Getty Images