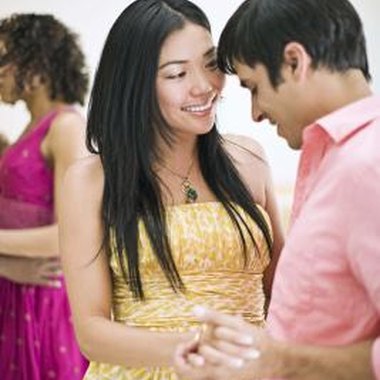 Committed and dating couples enjoy the opportunity to engage in romantic activities such as dates, parties and getaways. You may enjoy sharing these activities with other couples. If you decide to throw a romantic party and invite your friends, choose a theme for the party that determines the decorations, activities and suggested attire for the guests.
The Way We Were
Ask couples to bring or wear something to that party that symbolizes how and when they met. A couple may choose to wear clothing similar to what they wore when they met. For example, if he was a football player and she was a cheerleader, he might wear a football uniform and she could wear her cheerleading uniform or bring pompoms. Another couple who met on the Internet might come dressed as computer geeks. Couples can try to determine how other couples met according to what they wore or brought. Couples may bring photos from their early time together, even if their relationship is recent.
Valentine's Party
Valentine's Day offers a great opportunity for a romantic party. Invite your friends to come in their finest party clothes and dance the night away. You can schedule this party in a hotel ballroom, a church fellowship hall, a lodge facility or out under the stars, if the weather permits. Offer a tasty candlelit supper with small intimate tables for those who want that option and larger tables for those who want to sit in groups. Invite a photographer to take pictures under a canopy of flowers and hearts.
The Spice of Life
Make your next romantic party a casual and informative affair centered on effective communication. Invite a relationship specialist to bring an informative and interactive presentation. Use communication games and activities to incorporate enjoyable ways to put some of the techniques into practice. Decorate your party space with pictures of people talking, conversation starters and tips to spice up life with loving gestures. Give each person, whether married or dating, a small spice tin as a reminder to use effective communication to spice up life.
Relationship Recommitment
Invite your married and committed couples group to celebrate their relationship with a romantic relationship recommitment. Print recommitment certificates for each couple that includes the date and a place for the couple and officiant to sign. Decorate your party space to look like a small wedding chapel, complete with wedding bells, flowers, ribbons and seating for the guests. Allow each couple a short ceremony with a few minutes for them to share their original vows, if they have them. After all the recommitments are complete, serve a large wedding cake and refreshments for the whole group.
Photo Credits
Jupiterimages/Brand X Pictures/Getty Images