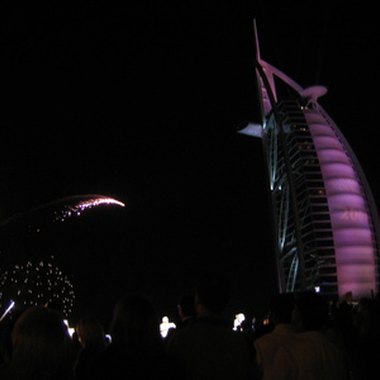 The riches of Dubai in the United Arab Emirates come with a wealth of luxury resorts perfect for couples looking for a getaway retreat. Accommodations in this country that is a live monument to grandiose commerce and wealth are not cheap, but the experience of a stay in a romantic luxury resort in Dubai is well worth the price.
Burj Al Arab
The sail-shaped Burj Al Arab in the Arabian Gulf of Dubai is the fourth-tallest hotel in the world in 2010. Your stay at this resort can begin with an arranged ride from the airport in a helicopter or chauffeured Rolls Royce to the hotel before checking into your room. All accommodations are duplex suites that come with a pillow menu, full-sized bath products and elegant Arab-style decor. The rooms range in size and have features such as dressing rooms and master bedrooms with a rotating, four-poster canopy bed. The Burj Al Arab has a spa with packages that range from caviar "rituals" to aromatherapy treatments.
Al Maha Desert Resort
Located in the heart of a desert oasis, approximately 45 minutes from the center of Dubai, is the Al Maha Desert Resort. Perfect for couples who do not associate luxury with a building's size, the Al Maha's suites look like elegant, traditional Bedouin tents, and each have a private pool that looks out into the desert and the surrounding gazelles. The resort assigns three staff members to each suite, provides private falconry displays and serves food fit for a beloved king's last meal.
One & Only Royal Mirage Palace
With only "superior" deluxe rooms and "superior" suites, the Royal Mirage Palace from the One & Only chain of luxury hotels is a resort that provides a balcony or terrace with every room that are adorned with terra cotta tiles and ornamental arches that overlook the private beachfront. The interior decor of the resort and its rooms reflect the Arabian tradition of the location, but add contemporary, modern elegance to the mix. The kitchen staff will make guests whatever they desire and cater to people with special dietary needs. Additionally, the One & Only Spa at the Royal Mirage Palace provides massages, body scrubs, sun treatments and the incorporation of aromatherapy.
The Palm Atlantis
From the hotelier that created the Atlantis resort in the Bahamas, The Palm Atlantis in Dubai is perfect for couples seeking to pack their days with activities. With décor that reflects a Mediterranean style and services more tailored to the Western culture, The Palm Atlantis is an all-inclusive club that bring the best of Dubai to its guests, such as nightclubs, multi-cultural cuisine, shopping at exclusive boutiques, spa and aquarium. Guests at the sea-themed resort can enjoy its water park, open-air marine habitat and a dolphin conservation facility.
Photo Credits
silvester in dubai image by Saskia Kuschetzki from Fotolia.com