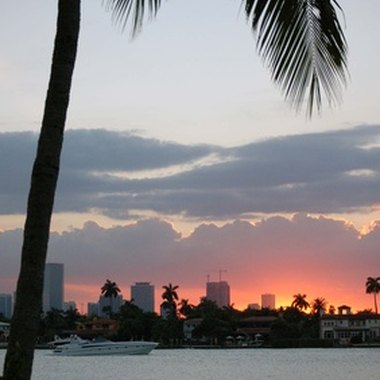 Known as "The Magic City," Miami has a busy nightlife and warm tropical climate that draws vacationing couples with the possibilities of romance and unforgettable experiences. The city is peppered with several hotels that accommodate travelers with locations convenient to the city's most popular attractions. Whether staying in the city for a quiet weekend away from the kids or taking a second honeymoon, couples will find romance awaiting them in Miami.
Luxury
Couples who want to visit Miami in luxury may choose to stay at the Four Seasons. The hotel treats guests to views of Biscayne Bay, a body of water that is particularly beautiful at night. Rooms and suites are equipped with marble bathrooms, deep soaking tubs and premium linens. To unwind, guests can schedule spa treatments and candlelight couples' massages in the hotel spa's private treatment rooms. Private cabanas surround the pool, complete with poolside waitstaff and complimentary magazines and sunscreen. Dinner is equally indulgent; Acqua offers Mediterranean fare and an award-winning wine list.
Beach
Miami travelers looking for a romantic beach getaway can look to The Tides in Miami's South Beach. The all-suite hotel offers ocean-view accommodations and individual personal assistants for every guest. The assistant can arrange for in-room flowers, champagne or a privately drawn bubble bath. The hotel concierge can schedule a private yacht charter, hot-air balloon ride, a deep-sea fishing excursion or scuba diving lessons. The Tides offers a full menu of spa services, and the gourmet restaurant La Marea serves breakfast, lunch and dinner.
Cruise Port
Couples getting ready to embark on a romantic cruise out of Miami can kindle their romance at the J.W. Marriott. Located just 1.4 miles from the Port of Miami, the award-winning hotel has a modern design theme; its almost 300 rooms are equipped with feather beds and evening turn-down service. A full-service spa and fitness center also are located on the property, as well as a heated outdoor swimming pool. The hotel concierge can arrange for a romantic, formal dinner in The Trapiche Room or for room service at any time of night or day.
Relaxing
In the midst of the bustling city of Miami lies a quiet bed and breakfast that not only provides guests with an intimate and exclusive atmosphere, but also takes them a step back in time with its rich history and cottage-like accommodations. The Miami River Inn is one of Miami's only functioning bed and breakfast. Built in the early 20th century, it is listed on the National Register of Historic Places. All rooms are individually decorated, and some feature private porches or views of the Miami River. Guests can request romantic evening limousine rides or indulge in a complimentary glass of wine at sunset. Each morning, Miami River Inn provides a breakfast full of homemade baked goods and fresh local orange juice.