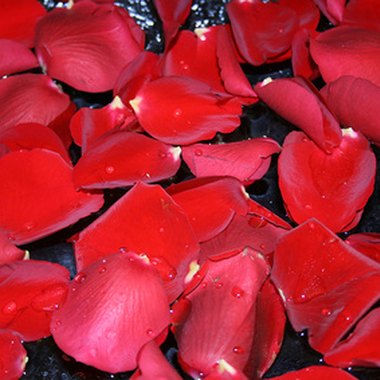 Chicagoland, as the Chicago Metropolitan Area is affectionately known, is home to some 8.5 million people, with nearly 6 million living outside the city itself. These suburbs range in size from small hamlets to bustling cities of hundreds of thousands; and hotels, motels and resorts are located all over the area. If you're looking for a romantic getaway outside of Chicago's city limits, you'll have many options – most within an hour of Chicago's O'Hare airport.
Essence Suites, Orland Park
Exclusively catering to couples on romantic getaways, Essence Suites is truly the essence of a romantic hotel. The suites feature everything from soft round beds, to oversized Jacuzzi tubs, to fireplaces, to mood lighting throughout. Luxury suites also feature two-person rain showers, leather love seats, a king-sized bed and myriad small décor accents. Essence Suites offers many romantic touches on request, such as long-stemmed roses, rose petals on the bed, chocolate-covered strawberries and boxes of chocolates. The on-site restaurant, Papa Joe's, serves traditional Italian fare in an intimate candle-lit environment. The Essence Suites in Orland Park, the company's flagship location, is just 45 minutes from O'Hare International Airport.
Carleton Hotel, Oak Park
The Carleton Hotel is located well away from the hustle and bustle of Chicago in a quiet residential district of Oak Park. The hotel is more than 80 years old, and in spite of its 153 rooms has the feel of a smaller luxury bed and breakfast. There are a variety of small private rooms throughout the hotel for events such as bridal showers and wedding receptions, and the staff is on hand to assist in planning small weddings. For visitors looking for a romantic getaway, the Carleton offers romantic excursion packages, which include an intimate dinner at the on-site Barclay Grill and a bottle of champagne. The Carleton Hotel is just 25 minutes from O'Hare International Airport.
Sybaris, Northbrook
Sybaris prides itself on being an ideal destination for anniversary getaways, and the staff is trained to make romantic excursions as special as possible. Everything is designed with intimacy in mind, from the plush king beds to the pillar fireplaces to love seats in some rooms. Many rooms include whirlpool tubs as well, and a small number of suites have private swimming pools complete with a tropical waterfall, personal steam room and hot tub. The pools are heated to a relatively high 90 degrees Fahrenheit and range from 15 to 22 feet. For guests feeling a bit more playful, the Chalet suite even has a small water slide. Sybaris is located in the Chicago suburb of Northbrook, only 20 minutes from O'Hare International Airport.
Hyatt, Lisle
The Hyatt in Lisle is a clean, modern choice for those looking to stay just outside of Chicago. The rooms here are spacious, with a basic king room at 434 square feet. All rooms offer a suite of amenities, including iPod docks, mood lighting, soft down beds and a comfortable sitting area. On-site Chatfield's Restaurant features fine dining, and room service is available through the day and night. The Amour package includes a full breakfast, a chilled bottle of champagne and late checkout. The Hyatt is located in the Chicago suburb of Lisle, just over 30 minutes from O'Hare International Airport.
Photo Credits
Rose petals image by Stephanie Mueller from Fotolia.com