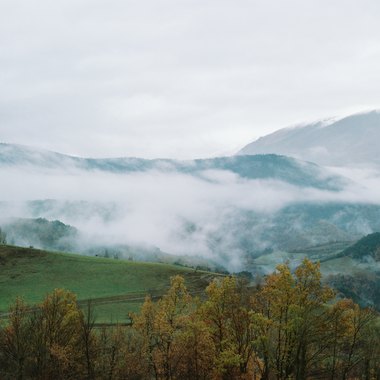 Keeping the fire ignited in a relationship is critical for longevity, and what better place to rekindle romance than in the beautiful and rustic surroundings of eastern Tennessee? With a population of almost a half-million people, Knox County is also home to the city of Knoxville, bustling with activity, but for those who want a more serene experience, there is no shortage of romantic getaways in the area.
Bed & Breakfast
If you and your honey want to break away from a traditional hotel stay while visiting eastern Tennessee, choose a cozy bed & breakfast inn instead. Typically in the same price range as a moderate hotel, B&Bs; are usually located in someone's home and serve guests a morning meal. Many hosts like to get to know their guests, and for this reason, the stay feels more casual. Go back in time with an overnight stay at the Maplehurst Inn (maplehurstinn.com) in Knoxville, where you can enjoy views of the Tennessee River.
Camping
Listening to the crickets chirping under the stars is an amorous way to experience Knox County. Pitch a tent made for two and bring some wine and cheese as you share your innermost feelings with each other Camping is a prime opportunity to distance yourselves from cell phones and computers and focus only on each other. The Volunteer Park & Family Campground (volpark.com), just north of Knoxville, features a heated pool and RV sites for those wanting to rough it but still sleep in a bed.
Rent a Cabin
One of the best parts of eastern Tennessee is its location in the heart of the Great Smoky Mountains. For a romantic getaway for you and your significant other, rent a cabin in the woods. Bring your own groceries, and prepare a meal together. Pack a suitcase with cozy robes, and light up the fireplace if it gets too chilly at night. For a twist, try Tennessee Boat Rental (tennesseeboatandbreakfast.com), where you can experience a cabin on the water.
Luxury Accommodations
Even though Knox County is surrounded by woods, mountains and everything the outdoors has to offer, you don't just have to rough it while visiting. Book a room at a hotel like the Crowne Plaza in Knoxville (crowneknox.com), where you can enjoy all modern conveniences and be within walking distance of many downtown attractions. When it's time to be outdoorsy, take an adventure together into one of Knox County's numerous parks, losing yourself among the trees and each other.
Photo Credits
Photos.com/Photos.com/Getty Images