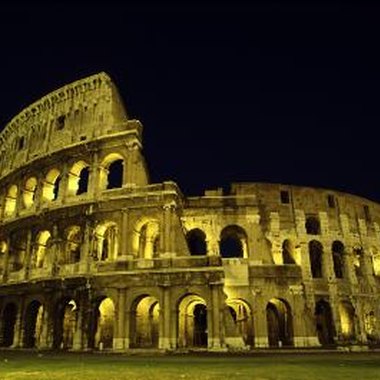 Making your own wedding invitations is both cost-efficient and creative. Use photographs to create invitations that are eye-catching and stand out to your guests as personal and unique. Many couples use photographs of themselves from special occasions such as engagement parties, but if you are having a destination wedding, such as in Rome, use pictures of area landmarks.
Roman Landmarks
The capital of Italy, Rome is a city rich in history and architecture that is a popular tourist destination, and it has many important landmarks. For your wedding invitations, you could use the Colosseum, the Palazzo Farnese, the Forum, the Domus Aurea or the Pantheon. for example. Do some research, and choose the location that speaks to you the most, or one situated close to the wedding or reception site.
Materials
Purchase blank wedding invitations, with envelopes. These can be found at many specialty stores. In addition to blank invitations, you need a Roman landmark photograph for each invitation, scissors, a ruler, double-sided tape, a pen or marker and, if desired, vellum paper. Vellum paper helps to protect the photographs on the invitations.
Procedure
Measure and cut your Roman landmark photograph to fit on the front of your invitation; blank wedding invitations come in several sizes, such as 5-by-7 inches and 4-by-6 inches. Position a blank invitation in a landscape (long side horizontal) or portrait (long side vertical) orientation, depending upon your photograph. Turn the photograph over and stick several lengths of double-sided tape on the back. Attach the photograph to the front of the invitation; if desired, use double-sided tape to attach an equal-size piece of vellum paper over the photograph. Open the invitation and write the wedding details inside in script. Repeat this process to create as many Roman landmark wedding invitations as you need.
Additional Ideas
If you do not wish to write the time, date and location of the ceremony and reception by hand, create a file in your word-processing software and type in the details. Print the information on matching paper and enclose it inside the invitations, or print it directly on the invitations before attaching the photographs. Add interest to the front of the wedding invitations by printing a caption, quote or song lyric just beneath the photograph of the Roman landmark.
Photo Credits
Goodshoot/Goodshoot/Getty Images