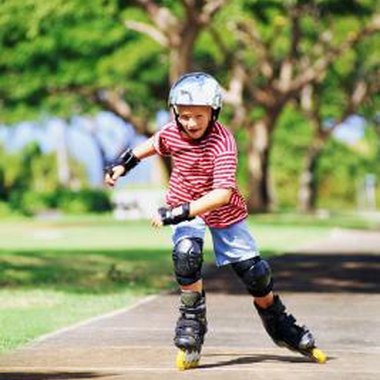 An estimated 13 million people rollerblade in the United States. Some people do it as a way to stay fit, seeking outdoor trails where they can glide for miles. Others prefer indoor skate parks where they can attempt high-flying jumps and tricks. Michigan has a variety of parks to cater to whatever style of rollerblading you prefer.
Gallup Park
Located in Ann Arbor, Gallup Park (a2gov.org) is one of the most visited recreation areas in the city. The attraction for rollerbladers is the three miles of paved asphalt that runs through the park. Scenic views of the Huron River and Geddes Pond enhance the activity for skaters. Additionally, water fountains, picnic areas, grills and benches give rollerbladers a chance to relax and take in the scenery when their exercise is done.
Kensington Metropark
With multiple trails winding through its grounds, the Kensington Metropark (state.mi.us) in Milford is another outdoor option for rollerbladers in Michigan. The entire park is more than 4,000 acres. With eight miles of paved trails, rollerbladers can skate through the park, taking in scenes of the water, wooded hills, deer and local birds. Picnic areas, restrooms and drinking water are available at the park.
Maybury State Park
Most visitors to Maybury State Park (michigan.gov) in Wayne County go for the extensive trail system, and rollerbladers will take pleasure in the four-mile paved stretch. Part of the paved trail rolls past a fishing pond, and multiple picnic areas, rain shelters and restrooms are located along the way. Maybury became a state park in 1975 and features a total of 965 acres.
Modern Skate Park
Some rollerbladers prefer an indoor experience, and for these skaters, few parks match the quality of Modern Skate Park (modernskate.com) in Royal Oak. With a variety of ramps and obstacles, rollerbladers can test their trick skills. The park frequently holds open sessions, while some times are designated specifically for inline skating. In 2009, the park hosted the Bitter Cold Showdown, a prestigious competitive rollerblading event.
Riley Skate Park
Riley Skate Park (rileyskatepark.com) in Farmington Hills, an outdoor park dedicated to skaters, attracts rollerbladers as a free-to-use facility. The park was funded by citizens of the town and other donations. During the summer, Riley Skate Park is open from 8 a.m. to 9 p.m. The 29,000-square-foot facility offers specific areas for beginners, as well as more challenging ramps and ledges for experienced rollerbladers.
Photo Credits
Thinkstock Images/Comstock/Getty Images