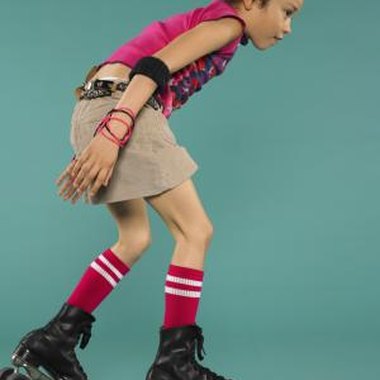 As Pennsylvania's fourth oldest city, Carbondale, is rich with industrial history. Located in the northeastern corner of the state, it holds the title of having the first million dollar company in the U.S., the Delaware & Hudson Canal Company. Mining was the industry that propelled the city until the mid-1900s and laid the groundwork for its prosperity today. Its residents and visitors who are looking for fun things to do in the surrounding area have several roller rinks from which to choose.
Rollaway Skating Rink
The Rollaway Skating Rink (no website; 415 Memorial Hwy., Dallas; 570-675-4844) in nearby Dallas throws you back in time with their classic roller skating experience. Located only about a 10-minute drive from Carbondale, the Rollaway facility houses an adequately-sized rink for you to perform all your tricks and moves. If want to take a rest, play a game or two in their arcade or grab some food from their snack bar. Skating instruction is also available through their private lessons.
Big Wheel Family Roller Skating Center.
A thirty-mile drive takes you to a fun skating rink at the Big Wheel Family Roller Skating Center of the Poconos (bigwheelskating.com). This kid-friendly facility offers many activities for the young ones including a year-around camp for ages five to 12 and a before and after school program. If you still have toddlers in the family, Big Wheel also provides a preschool program for two hours a day where parents skate at no charge.
Skate-A-Palooza Family Event Center
Also about a 30-minute drive from Carbondale is Skate-A-Palooza (skateapalooza.com). This facility has a focus on fundraising and assists churches and related organizations in putting on events. In addition to having traditional skating times at their rink, they also offer private lessons and special groups for homeschoolers. After skating, you can stay for one of their many special events, such as the Battle of the Bands or the dance for teenagers that takes place every Friday night.
Skate Estate Family Fun Center
If you want to make a day of your skating experience, try the Skate Estate Family Fun Center (skateestate.com) in Willow Point, New York. Located about an hour from Carbondale, you'll want to pack supplies for the day because there's no shortage of things to do when you need a break from skating. When you're not gliding along in their classic rink from 1982, you can play miniature golf, shoot some laser tag or enjoy their water park. They also offer special rates for parties.
Photo Credits
Siri Stafford/Stockbyte/Getty Images