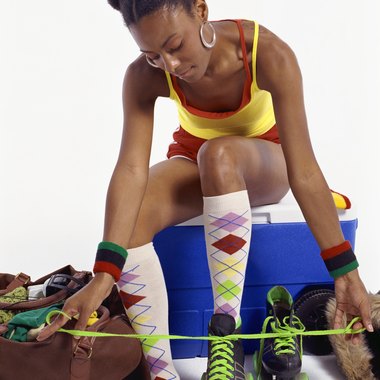 At its peak of popularity in the 1970s, roller skating attracted people of all ages and interests, and roller skating rinks could be found all across the country. Today, many of those rinks have closed, but people still enjoy roller skating for exercise or just for fun. In Birmingham, Alabama, residents and visitors can find several venues in the area, both indoor and outdoor, that offer a place for roller skating.
Skates 280
Located just southeast of downtown Birmingham, Skates 280 (skates-280.com) offers a variety of open skate times throughout the week with admission prices ranging from $2 to $8 depending on the day and time. Skate rental prices range from $2 to $3. The venue offers a special 17 and over skate on Friday and Saturday from 11 p.m. to 1 a.m., and also free skate lessons for all ages every Saturday morning. Along with open skate times, visitors to Skates 280 can plan a roller skating birthday party at the rink and the rink can also be rented out for other private events. The rink offers special extended holiday and school break hours, along with discount skate times.
Roller Motion Skate Center
On the other side of the city in the suburb of Bessemer, the Roller Motion Skate Center (rollermotionskatecenter.com) also caters to the roller skating needs of the people of Birmingham. During the school year, the rink is open Tuesday and Thursday nights, and all day Saturday and Sunday. While kids are out of school for the summer, skating hours are extended to include Tuesday through Friday afternoons. Admission costs range from $5 to $7, with $1 admission on Tuesday nights, and skate rental costs $2 for regular roller skates and $3 for in-line skates. The rink also hosts private parties, offers birthday party packages and sells skating equipment.
Trussville PlayStation
Northeast of the city in the Trussville area, the Trussville PlayStation (trussvilleplaystation.com) features roller skating along with other indoor and outdoor rec activities such as laser tag, go-karting and miniature golf. The rink accommodates skaters of all levels, from beginners to advanced, and traditional skate rental is included in the cost of admission, which ranges from $2 to $9. In-line skates and speed skates are available for rent for an additional charge. Skating games are played at 10 minutes before each hour and 20 minutes after each hour during open skate times. The rink also offers special holiday and summer break hours, and a $2 discount on Saturday nights for guests who bring their own skates.
Vulcan Rail Trail
With warm weather year-round, Birmingham is an ideal place for some outdoor roller skating as well. Roller skaters looking for an outdoor venue can turn to the Vulcan Rail Trail in Birmingham, a 1-mile asphalt paved trail, ideal for roller and in-line skating with its smooth surfaces. Built in a former railroad bed, the Vulcan Rail Trail begins at Vulcan Park near the heart of downtown Birmingham and ends at 11th Place South, close to the University of Alabama at Birmingham.
Photo Credits
Creatas/Creatas/Getty Images