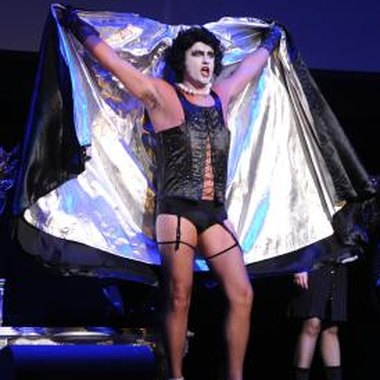 A 21st birthday is a rite of passage for most Americans, as it marks the time when a person is legally allowed to drink alcoholic beverages. A special occasion calls for a special celebration--like a Rocky Horror Picture Show-themed birthday party. Rocky Horror Picture Show is a campy adult-orientated horror musical that encourages audience participation, which make makes it an appropriate theme for an adults-only 21st birthday bash.
Costumes
When planning a Rocky Horror Picture Show party, you should first decide whether it will be a costume party or not. It is a tradition to wear character costumes to viewings of the movie. However, if you plan on going out to a bar or club as part of the 21st birthday celebration, your guests may not feel comfortable being dressed up in public. If you do decide on costumes, hold a costume contest with a prize for the best-dressed.
Audience Participation
While it may seem unorthodox to watch a movie at a birthday party, "Rocky Horror Picture Show" encourages audience participation, making it an altogether interactive experience. Print out a list of audience participation callbacks and props from a Rocky Horror fan site and send them out with your invitations. You may wish to ask attendees to leave out certain participation cues, such as throwing rice, to keep your house clean. Create your own Rocky Horror drinking game to keep in the spirit of the usual 21st birthday festivities.
Food and Drinks
Serve your guests some truly macabre treats and drinks at your Rocky Horror birthday party. Your standard Halloween fare will apply in this situation, such as gloves stuffed with popcorn to look like severed hands. Fruit-flavored wax lips are particularly reminiscent of the Rocky Horror movie. For drinks, serve up something ghoulish such as Bloody Marys or red Jell-O shots made from strawberry or raspberry flavors. If you have fewer guests, throw a dinner party and reenact the dinner scene from the movie, complete with a "mystery meat."
Party Activities
Even with a viewing of "Rocky Horror Picture Show," your guests will need something to keep them occupied. Play a copy of the movie's soundtrack so that everyone can do the "Time Warp" or have a dance competition and see which of your party guests can really cut a rug. Rent or borrow a karaoke machine and throw a Rocky Horror sing-along or let everyone take turns in the spotlight. For another option, consider Rocky Horror-themed charades.
Photo Credits
Frazer Harrison/Getty Images Entertainment/Getty Images