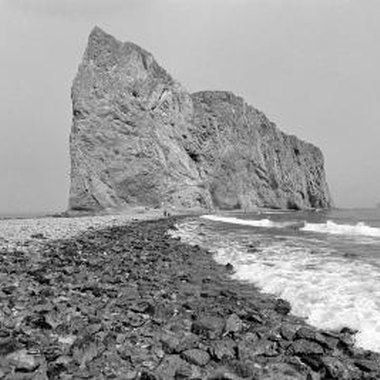 Rock jetties are large, often man-made structures built where river mouths meet the ocean. Intended to protect river channels from erosion or filling, rock jetties have become a part of the coastline's ecosystem in Oregon, and many different kinds of wildlife and fish now populate these jetties, which means prime fishing opportunities are available for those willing to get out on Oregon's jetties. Fishers in the state should know what kinds of fish to hunt for, the laws that regulate fishing in the state and some locations to get the bait, gear and lures needed to succeed at jetty fishing.
Jetties
Oregon's coastline is home to many different jetties, and the more adventurous fisherman may want to find the perfect jetty for fishing himself. There are also a number of Oregon Coast jetties that have consistently proved fruitful for other jetty fishers, including the South jetty at Yaquina Bay, near Newport, and the north jetty at Tillamook Bay. Before going out on any jetty, however, fishers should take care to have safety equipment and tough shoes to handle the slippery and often sharp rocks of the jetties.
Fish
Jetty fishing, when done properly, typically succeeds in capturing fish that now live inside and around these rock jetties. In Oregon, black rockfish are one of the most common fish varieties living among these jetties and are also known as black sea bass. Other fish that can be caught along Oregon's jetties include flounder, sea perch, sole, kepling and cod. Fishermen may even catch an occasional Dungeness crab along this stretch of coastline.
Laws and Licensing
There are a number of state laws regulating fishing at Oregon's coastal jetties. This includes a recreational fishing license requirement for any fisher over the age of 14 and a separate license for any fisher wishing to capture shellfish. For any fisher looking to keep her catch, Oregon state law also regulates how many fish can be captured per season. Of the fish typically caught while jetty fishing, this includes two cod, seven rockfish, and 25 flounder or sole. Jetty fishing season typically lasts most of the year although fishermen should check with the Oregon Department of Fish and Wildlife before going out to a jetty.
Gear
The successful jetty fisher will also need the proper gear and bait. For those looking to stay safe on the rocks, hard shoes that don't slip on the rocks are necessary; they can be found at many general outdoor shops. Springfield, Oregon, is less than an hour's drive from the coast and features a Cabela's (cabelas.com) outdoors store with fishing gear, outdoor shoes and outerwear suitable for jetty fishing. For those simply looking for the freshest bait and lures, there are many bait shops along Oregon's coast, including the Tillamook Bait Company (tillamookbait.com), a store very close to the Tillamook Bay jetties.
Resources
Photo Credits
Photos.com/AbleStock.com/Getty Images