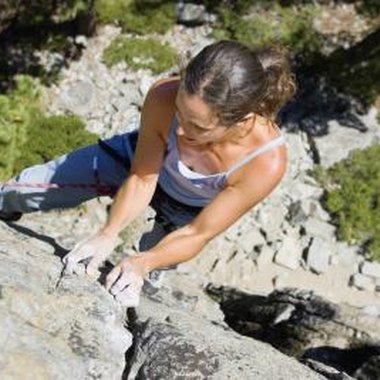 City of Rocks State Park is a popular rock-climbing destination in New Mexico. The giant, time-weathered granite rocks tower over a desert landscape. The tall spires of the rock formations resemble a city skyline. There are only six other similar rock formations in the world, making a visit to the park an unique experience. The park features hundreds of designated rock-climbing terrains, a botanical garden, camping facilities and an observatory for stargazing. The City of Rocks is located about 24 miles northwest of the town of Deming, New Mexico. A four-mile access road leads into the park.
Geography
The rock formations in City of Rocks developed over millions of years through the process of erosion. Fissures and fractures in the rocks formed when molten rock from volcanic activity cooled. Most of the rock formations in City of Rocks are between 100 feet and 300 feet tall, with a few formations as tall as 600 feet. Guidebooks are available at the park headquarters for first-time visitors. Trails are easy to follow. Permissible climbing areas are marked.
Bouldering
A particular style of climbing has been designated in the park called "bouldering." Bouldering is free climbing without the use of bolts or fixed protection, such as ropes and harnesses. Bouldering is not for the inexperienced climber, but it protects the natural state of the rocks. No chipping is allowed on any of the stones. Chalking is allowed in some areas. There are areas that are suitable for climbers of all skill levels from beginners to experts.
Boulderfest
The City of Rocks Boulderfest (vcrux.com) is an annual climbing competition held at the park each year around Halloween. Contestants compete by climbing as many of the rocks in the park as they are able to climb. Climbers are awarded points for every successful rock climb. This two-day event attracts free climbers from around the country. There are no prizes or trophies, but contestants don't mind. The joy of climbing and conquering the City of Rocks draws hundreds of competitors.
Seasons
The temperature at City of Rocks New Mexico can exceed 100 degrees Fahrenheit in the summer months. If you plan to visit City of Rocks in the summer, take extra precautions to avoid heat exhaustion and dehydration. July and August are also the months when New Mexico experiences thunderstorms. The temperature in winter can drop as low as 30 degrees. The most comfortable seasons to climb are in the spring and fall.
Resources
Photo Credits
Jupiterimages/Comstock/Getty Images