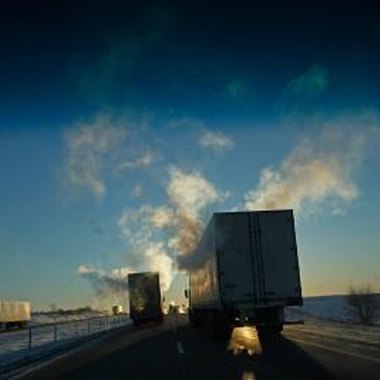 Interstate 80 is one of the longest highways in the United States. The full roadway goes from San Francisco in the West to the Hudson River in New Jersey. The portion of I-80 from Sacramento to Salt Lake City stretches about 650 miles and passes through three states. You will certainly find a suitable attraction along this stretch of highway, no matter what your interests are.
California State Capitol Museum
In Sacramento, the California State Capitol Museum offers guests an insight into the state's history and government. Located about three miles off of I-80, this attraction is open from 9 a.m. to 5 p.m. every day and is free to the public, as of July 2011. Exhibits include art and murals of California architecture, government officials and state historical events.
Soda Springs Mountain Resort
For skiers and snowboarders, the Soda Springs Mountain Resort in Soda Springs, California, offers plenty of entertainment. Located about 50 miles west of Reno and just 1 mile off of I-80, this ski resort at Donner Summit features full family fun with plenty of trails designed specifically for children. As of July 2011, entry costs $35 for adults and $25 for children 17 and under.
Rye Patch State Recreation Area
The Rye Patch State Recreation Area in Lovelock, Nevada, offers visitors a chance to relax and enjoy the area's natural resources. The area is about two miles away from I-80 and about 120 miles east of Reno. At Rye Patch, guests can enjoy swimming, fishing and boating in the reservoir, or camping and hiking in the surrounding hills and trails.
The Bonneville Salt Flats
Just east of the Nevada-Utah border lie the Bonneville Salt Flats near Wendover, Utah. This 30,000-acre area near I-80 is known for its flat, barren terrain. The Bonneville Salt Flats attract motor racers looking to break land speed records. These trials and racing events are open for viewing to the public. Outside of these competitions, little else exists in the area, and lodging accommodations will have to be made elsewhere.
Metaphor: The Tree of Utah
"Metaphor: The Tree of Utah" is one of the few other attractions in the Bonneville Salt Flats. This sculpture, created by Swedish artist Karl Momen, stands 88 feet tall. Momen created the colorful tree over a five-year period in hopes of creating an attraction in the otherwise barren land. Its location just north of I-80 draws many viewers.
Timpie Springs Waterfowl Management Area
The Timpie Springs Waterfowl Management Area can be found on the south shore of the Great Salt Lake in Utah. This 1,440-acre section of land provides ample opportunities to view the area's wildlife. It lies just one mile north of I-80. Hiking and backpacking are common activities in the area, as visitors hope to catch a glimpse of falcons or shorebirds.
Resources
Photo Credits
Chip Somodevilla/Getty Images News/Getty Images