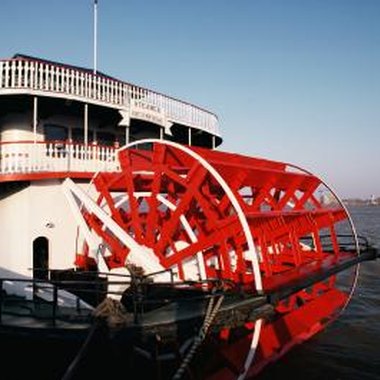 Marietta, Ohio, which was the first permanent settlement in the Northwest Territory, is a launching and stopping point for a number of riverboat cruise tours. These tours travel the Muskingum and Ohio rivers for a trip through old and new settlements and sections of wilderness. Marietta offers fall riverboat touring options, as well as other riverboat exhibits in the fall and throughout the year.
The Valley Gem
Designed to be both low enough to fit under Ohio's bridges and thin enough to make it through hand-powered locks, the current Valley Gem steamwheeler was completed in 1989 as a vessel meant to take travelers on both the Muskingum and Ohio rivers. Operated out of Marietta by the Sands family since 1973, the Valley Gem is available for public tours, private rentals, special events and weddings. The public tours include lunch, dinner, dessert and lock cruises. Those booking private events aboard the ship have the option to use several amenities, including a sound system, tables and chairs, microphones, potable water, ice machine and restrooms.
BB Riverboat Cruises
BB Riverboats offers a five-day, four-night fall cruise up the northern portion of the Ohio River departing from Cincinnati and disembarking in Pittsburgh. The tour, which includes scenery such as islands, bridges and locks, makes stops along several river towns, including Marietta and others in Ohio, Kentucky and West Virginia. The vessel, the Belle of Cincinnati, is a four-deck sternwheeler that includes such amenities as room and board, outdoor and indoor viewing decks, theater, library and activity area. Meals are also served on board. Upon arriving in Pittsburgh, guests stay one night in a hotel near PNC Park before heading back to Cincinnati via bus.
Marietta Riverboat Attractions and Events
Marietta offers a number of attractions and events highlighting its long riverboat history. The Ohio River Museum, on Front Street in Marietta, features three exhibit houses, the pilot house of the old steamboat Tell City, and the steam towboat W.P. Snyder Jr. The exhibit houses tell the story and ecology of the Ohio River and the steamboat era. The paddlewheeler Becky Thatcher is a showboat and restaurant permanently moored in the Muskingum River on Front Street. Finally, every September, the town has its annual Ohio River Sternwheeler Festival. This free festival features a parade of sternwheelers down the Ohio River, as well as refreshments, live entertainment and fireworks.
Historic Marietta, Ohio
Marietta, Ohio was the first permanent settlement of the Northwest Territory. Settlers from Ipswich, Massachusetts, led by Gen. Rufus Putnam and Dr. Manasseh Cutler, founded the settlement on April 7, 1788 after the Ordinance of 1787 opened land for settlement north and west of the Ohio River. Since then, riverboats and canals have provided the town with a healthy trade in goods and, later, tourism.
Photo Credits
Jupiterimages/Photos.com/Getty Images