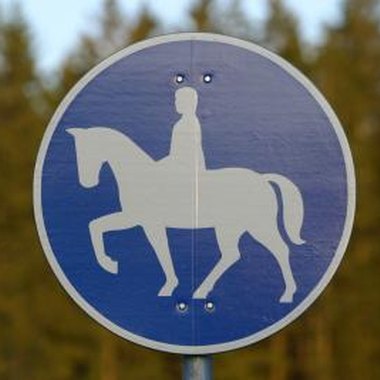 The town of Castle Rock, Colorado, takes pride in its number of parks and open space areas, with 5,475 acres total. And with 44 miles of paved soft-surface trails, as well as an additional 50 miles planned for development, it's no wonder horseback riding plays a part in Castle Rock activities. To accommodate this popular activity, several riding stables in and around the town offer a variety of training, boarding and recreational options.
Wood Run Farm
Wood Run Farm (woodrunfarm.com) caters specifically to hunter-jumper horses and riders, with 35 acres of fields and facilities. The stables offer cross-country jumping courses, indoor and outdoor rings, two barns and full-sized indoor and outdoor arenas. Areas of training cover everything from flat lessons to jumping skills, with lessons for both beginners and professional competitors. Boarding here includes turnout six days a week, two meals every day, medication services and regular check-ins.
Westmanton Stables
Specializing in dressage service and training for professionals who own their own horse, Westmanton Stables (westmantonstables.com) offers a variety of training and boarding options. However, horse ownership is a prerequisite, as Westmanton does not keep their own school horses. Training includes trailer-in lessons, as well as three, four and five lesson-per-week packages, with full dressage care in the event of owner absence. Boarding includes automatic waterers, grooming stalls and on-site veterinary care.
Helicon Show Stables
Founded in 2003, Helicon Show Stables (heliconshowstables.com) offers training for riders of all conceivable skill levels. Facility features include 10 acres with scenic mountain views, a matted center barn aisle, wash stalls, and a number of pastures and paddocks for daily horse turnout. Helicon provides horses and ponies for riders depending on need and skill, with private and group lesson packages and summer camps and birthday parties for both children and adults.
Denver Equestrians
Castle Rock's Denver Equestrians stables (denverequestrians.com) offers regimented horsemanship lessons for newcomers, in addition to advanced technique courses such as grooming, safety, tack application and hunt seat equitation. While there are a number of options available for the serious dressage or hunter-jumper rider, such as professional rider assessment, Denver Equestrians also provides birthday party packages with riding, grooming and picnics. Regular lessons come packages of four, with private and group options.
Resources
Photo Credits
Hemera Technologies/AbleStock.com/Getty Images