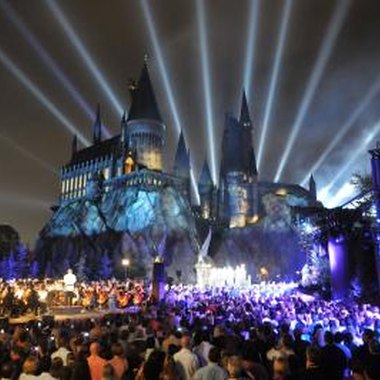 Hurtle around the classrooms and grounds of Hogwarts School of Witchcraft and Wizardry, race roller coasters or indulge in low-pace Potter mythology at Hagrid's Hut at the Wizarding World of Harry Potter. This Florida theme park's three rides cater for every taste, with rides available for anyone over 36 inches tall.
Harry Potter and the Forbidden Journey
With a minimum height requirement of 48 inches, Harry Potter and the Forbidden Journey is a medium-velocity ride with spectacular, life-like visuals. Join Harry, Ron and Hermione, Harry Potter's leading characters, as you travel past some familiar Hogwarts sites including the defense against the dark arts classroom and Professor Dumbledore's office. You then join Harry, Ron and Hermione as you soar over the the Hogwarts grounds on a broomstick, facing multiple near misses and challenges, including dragons, the Whomping Willow and dementors.
Dragon Challenge
The Dragon Challenge is the ride for any thrill-seekers visiting the Harry Potter theme park, as long as they are above 54 inches tall. Choose either the Hungarian Horntail or Chinese Fireball. With maximum speeds of 60 miles per hour and drops of 115 feet, these two coasters race and dart between one another, including several apparent near misses. No loose items are permitted on this ride, but adrenaline junkies can utilize ride-adjacent secure lockers to stash their belongings before they strap themselves in for the rush and g-forces of the Dragon Challenge.
Flight of the Hippogriff
The Flight of the Hippogriff wends a mythical path around the Hogwarts grounds, calling at the pumpkin patch and Hagrid's hut as the gentle Hogwarts teacher leads you around. With a 29-mile-per-hour maximum speed and a 42-foot maximum height, this ride is accessible to anyone over 36 inches tall and well-suited for those who are not fans of the high-velocity and g-forces of the Dragon Challenge.
Other Attractions
Other attractions enhance the theme park experience. Visit shops straight from the book series by J.K. Rowling, including Zonko's tricks and jokes store and Honeydukes sweets shop. Families can also enjoy a quick drink, snack or a sit-down meal at the Hog's Head Pub or the Three Broomsticks, both of which feature heavily in the Harry Potter books.
Photo Credits
Handout/Getty Images Entertainment/Getty Images