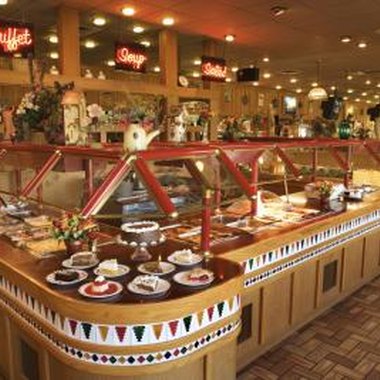 Throwing a party in your home is stressful, expensive and requires preparation and clean-up. An ideal alternative is to host a party at a restaurant. Many restaurants have private party rooms that enable you to increase the individualized attention for your party and retain privacy you would expect at home -- without the work. You can reserve a private restaurant room in Milford, Michigan, for almost any type of party or business function.
Bakers of Milford
Bakers of Milford (BakersofMilford.com) has four party rooms, enabling the restaurant to accommodate parties as small as 20 or as large as 450 guests. The large ballroom is ideal for weddings and Bakers of Milford can create a sit down meal or provide a buffet. The ballroom has a generous foyer and marble dance floor. Bakers of Milford also has smaller rooms that are perfect for showers, fundraisers and other parties or events. Prices vary depending on the nature of your function and the selected food and beverages.
Coratti's on Main
Coratti's on Main (corattisonmain.com) offers two private party rooms. Its casual, lower level room is ideal for parties under 50 people. The upper level room accommodates up to 120 people. The restaurant has Italian food and offers a choice of buffet, family-style or plated entrees. Coratti's also offers children's meals. The standard dinner buffet is $24.50 per person, but catering prices vary depending on the style service you choose and menu items. Catered meals include bread, salad and dessert. Optional customized dishes are available and vary in price.
Hector & Jimmy's
Hector & Jimmy's (hectorjimmys.com) has a private party room that accommodates 30 to 80 guests. It offers buffet and plated party packages. Continuing into 2011, this restaurant also offers optional presentation and visual equipment rentals. Hector & Jimmy's serves continental selections such as ribs, chickens, steaks and fish. It offers a breakfast buffet, lunch buffets, dinner buffets and plated entrees priced by selection. Group shower packages are also available.
Tips When Reserving
Book on-site party rooms well in advance, especially if your party will be during the Christmas season. The restaurants require deposits to hold the party rooms. Some restaurants offer incentives on particular dates, but promotions change so inquire when you book.
References
Interview, Jennifer Bennet, Manager, Milford, Michigan
Resources
Photo Credits
Thinkstock/Comstock/Getty Images