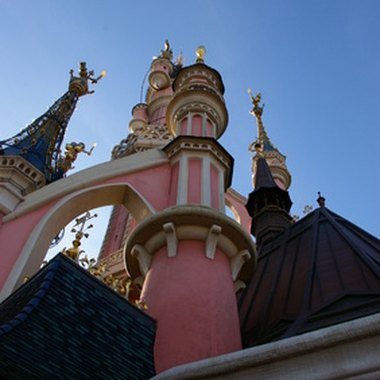 The closest resorts to Disney World, Florida are the ones that are on Disney property. In addition to being close to Disney World, staying at a Disney resort offers other advantages to vacationers such as free bus travel to Disney properties, meal plans, special park perks and having your room key, park admission and debit card all tied into one Disney card.
All-Star Movies Resort
The All Star Movies Resort is considered one of the Disney budget resorts. It is less expensive, with smaller rooms and it is further from Disney World than most of the other park resorts. The resort features Disney movies themes throughout including outdoor public areas with larger-than life statues of characters from "Toy Story," "The Love Bug," "Mighty Ducks," "Fantasia" and "101 Dalmations." The resort has a large cafeteria, game room, gift shop and outdoor pools. Handicapped rooms are available.
Animal Kingdom Lodge
The Animal Kingdom Lodge is themed to appear as if it is in Africa. You can even see zebras, giraffes, antelopes, elks, kudus, gazelles, wildebeests and exotic birds very near the resort. You can also book rooms that overlook the savannah. The lobby has a four-story atrium and a large mud fireplace and glass wall that overlooks the savannah. You'll find storytellers telling tales from African folklore in the lobby throughout the day. The resort has an 11,000-square-foot pool with a small waterslide. You'll find flamingos and other animals around the pool as well. The resort has a exercise room, gift shop and three on-site restaurants. Rooms all feature hand-carved furnishings in dark woods and African fabrics, as well as a private balcony.
Disney Polynesian Resort
The Disney Polynesian Resort is one of the original resorts at Disney World and its tropical theme continues to make it a popular one. It is located on the Seven Seas Lagoons, which offers guests excellent views of the fireworks at the Magic Kingdom, Cinderella's Castle and the Electrical Water Pageant. The Great Ceremonial House is the reception area that features a three-story atrium with waterfalls and tropical plants. The walkways between buildings are torch lit. Along the way, you will see koi ponds, white sand beaches, longhouses and more. The Polynesian Resort has two restaurants, a volcano-theme pool and marina. It also has the Disney monorail that will take you right into the Magic Kingdom.
Port Orleans Riverside Resort
The Port Orleans Riverside Resort gives you a taste of the old South in Florida. The resort features plantation-style homes connected by bridges. There are gardens, fishing areas, magnolia trees, live oak trees and more that give it a distinctive southern feel. A man-made river also winds through the resort. Port Orleans has seven pools and two waterslides. If you want to eat on site, there is a food court, restaurant and lounge that serve food. You can take a water taxi to visit Downtown Disney.
Resources
Photo Credits
Palais de la belle au bois dormant - disney paris image by bourrin from Fotolia.com