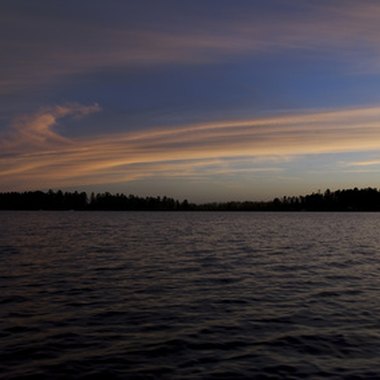 Some vacationers flock to sun-splashed resorts in the subtropics and tropics, looking to spend their time off by beach lounging, sport fishing and drink sipping. But for travelers seeking a quieter retreat, northern Wisconsin's mixed hardwood and conifer forests, sprinkled with lakes, offer an alternative. Bordered on the north by wild Lake Superior and to the west and east by Minnesota and the Upper Peninsula of Michigan, respectively, this is a region of winter snows, towering white pines, loons cruising on waterways and bear tracks on sandy back roads. The Northwoods also caters to those looking for a taste of the Upper Midwest's cherished pastimes, from ice fishing to snowmobiling to the Friday night fish fry.
Types of Resorts
Many of Wisconsin's Northwoods resorts are situated on lakes, which are as well distributed as those next door in "Land of 10,000 Lakes" Minnesota. Typically these are small bodies of water tucked away in the forest, like the Eagle River area's Chain of Lakes, which harbors a number of resorts including the Wild Eagle Lodge. Some accommodations sit on the edge of the region's supreme landmark, Lake Superior, famous for its scenic shore and tempestuous waves. Mission Springs Resort, for example, has cottages along Chequamagon Bay, an arm of Superior.
Seasonal Considerations
Accommodations like Top O' the Morn Resort and Campgrounds near Iron River in northwestern Wisconsin, which offers both cabin stays and camping, typify the seasonal experience of the region. Winter weather can be severe, with heavy snows and frigid temperatures -- often well below zero, counting wind chill -- but much frosty scenery. Summers are often thick with humidity and the threat of thunderstorms, but are great for lake dipping. Spring and fall are often ideal times to visit; around Top O' the Morn and elsewhere, you can treat yourself to autumn views of color-shifting birches, red maples and oaks.
Recreation
Recreation out of Northwoods resorts depends on the season and your own inclinations. Many of the businesses have recreational opportunities on their own grounds: Nitschke's Northern Resort on Lake Minocqua, for example, has easy access to snowmobile trails as well as boating, volleyball and basketball courts and horseshoe pits. Boating -- whether by canoe, rowboat or motorboat, where allowed -- gets you out on the water to fish for muskie or scout for wildlife. The snowbound winter woods invite exploration by cross-country ski, snowshoe, snowmobile or even dogsled, while frozen-over lakes attract ice fishers.
Wildlife Watching
Visitors staying at Northwoods resorts have a real chance of seeing some of the wildlife indigenous to the northern hardwood forests of the Upper Midwest -- sometimes even without leaving their rooms. The diverse mosaic of landscape featured at lakeside resorts like Black's Cliff Resort, set on Lower Kaubashine Lake, encourages a variety of wildlife. Staying in one of Black's Cliff Resort's cabins or lodges means you may spot big ravens, whose deep croaks are emblematic of the Northwoods, or white-tailed deer, especially visible during winter yarding or summer doe-and-fawn outings. Lucky visitors trekking deeper into the woods may see rarer creatures like fishers, black bears, river otters or even gray wolves.
Photo Credits
Northern Wisconsin Summer Sunset image by sprout from Fotolia.com