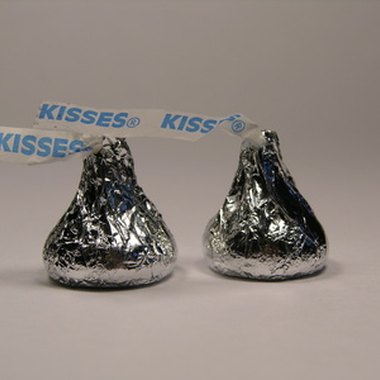 Pennsylvania shares a border with six other states -- Delaware, Maryland, New Jersey, New York, Ohio and West Virginia -- making it a convenient destination for families from all over the East Coast and Midwest. Kid-friendly resorts can satisfy the most discriminating young traveler. Make a splash at a water park, hit the slopes or the green with your young prodigy, get wild with some animals and have a cup of cocoa where Kisses were born without ever leaving the Keystone State.
Great Wolf Lodge
Great Wolf Lodge in the Poconos has an indoor water park that's exclusively reserved for overnight guests of the resort. Highlights include the double barrel drop and Fort Mackenzie, an interactive, four-story water fort crafted like a treehouse. Rooms can accommodate four to eight guests and feature hand-carved furniture and a soft color scheme of buttercream, sage and eggplant. Guests ages 4 to 12 can have manicures, pedicures and facials in the Scoops Kid Spa. Kids can snuggle up in the lobby in their PJs for a Nightly Pajama Story Time after the Great Clock Tower Show.
Hersheypark Resorts
The Hersheypark Resorts in Hershey received mention on Gayot's list of the top 10 family resorts in America. You have a choice of three lodging options: the stately Hotel Hershey, the rustic Hershey Lodge and the 55-acre Hershey Highmeadow Campground. Amenities include sport courts, game rooms and playgrounds. Resorts Advantage perks for guests include private amusement park access and admission to the Hershey Story and Hershey Gardens. The Cocoa Kids Club offers bingo, mini golf and dive-in movies at the pool. The resort's nine-hole Spring Creek golf course rents kids clubs and was designed specifically for young players.
Seven Springs Mountain Resort
At first glance, Seven Springs Mountain Resort, about an hour southeast of Pittsburgh, seems like a ski resort, but it's the largest four-season resort in Pennsylvania, offering year-round kid-catering fun. Lodging options include a hotel, chalets, condominiums and cottages. The resort offers a diverse lineup of activities and entertainment for the whole family. Some highlights include bowling, concerts, fireworks displays, mini golf, hydro-bikes, a Monkey Motion bungee trampoline and an 1,980-foot-high alpine slide. The resort has five casual restaurants and five grab-and-go eateries to enjoy a family meal.
Weatherbury Farm
More than 50 notable publications have sung the praises of a family vacation at Weatherbury Farm, just 45 miles from Pittsburgh. Country-style accommodations at the farmshare resort are situated in a group of historic buildings with features such as claw-foot bathtubs and wood-burning fireplaces. After a hearty morning breakfast, kids of all ages can lend a hand in Farmer Dale's chore rounds. Hands-on animal interaction includes bottle-feeding baby animals and collecting eggs. Some of the farm's four-legged residents include sheep, goats, rabbits and chickens. Kids who participate in the Farm Kid program receive informative coloring and activity books and a certificate of completion.