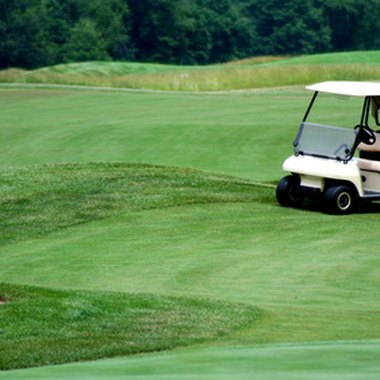 Located in the heart of Hill Country, Austin, Texas, offers rolling terrain and panoramic vistas unrivaled by any other Texas metropolitan area. In addition to the natural beauty of the area, many visitors come to see the Texas Capitol, the University of Texas and the famous Sixth Street entertainment and dining district. While in the city, tourists can forgo traditional hotels in favor of more elaborate accommodations and activities at the area's many resorts.
Golf
The Barton Creek Resort and Spa boasts being consistently named the top golf resort in Texas with its four 18-hole golf courses on the property. Barton Creek spans more than 4,000 acres and offers many golf packages suitable for beginners and expert golfers alike. For golfers looking to brush up on their game, day schools and private lessons are available with reservation. A spa and fitness center also are located on the property, and recreation such as tennis and hiking keep people of all ages and interests entertained.
On the Water
The Lakeway Resort and Spa is located on beautiful Lake Travis, approximately 20 minutes from Austin. Recreation at the resort is centered around the water with three swimming pools, a full-service marina, fishing and sailing. A heated whirlpool tub overlooks the lake and is surrounded by private poolside cabanas and lounge areas. At the end of the day, guests can relax with a cup of coffee or glass of wine at the resort's Back Porch wine bar overlooking the lake. The Travis Restaurant and Josey's Bar and Grill also offer views of the water. Rooms at Lakeway Resort include flat-screen televisions, high-speed Internet and complimentary daily newspapers.
Spa
Lake Austin Spa Resort was named the No. 1 spa destination of 2010 by "Conde Nast Traveler." The award-winning resort offers more than 100 spa services to guests, including the "river rock massage," a seaweed scrub, cupping treatments and diamond facials. Even more distinguished is the number of locations guests can choose from to receive spa services: There are 25 treatment locations, including private outdoor cabanas and a garden bamboo room. Rooms and suites at the resort include private outdoor porches, Egyptian cotton linens and fresh-cut flowers. Group retreats are available.
Outdoors
The Hyatt Regency Lost Pines is for travelers who want to experience the beauty of Austin and its outdoors. Located on more than 400 acres, this resort is far enough from town to provide privacy and exclusivity, but just a short drive from the airport and downtown Austin. Guests are encouraged to explore the great outdoors by way of rafting on the Colorado River, horseback riding and hiking. Other activities include kayaking, skeet shooting, biking and archery. An evening campfire is lit each night, and the resort's location provides an opportunity for stargazing.
Photo Credits
Golf cart on golf course image by Jim Mills from Fotolia.com