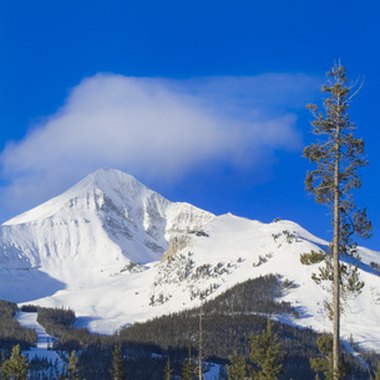 The vastness of Yellowstone National Park -- 3,472 square miles in all -- challenges the imagination. Resorts in the neighboring areas provide not only lodging and proximity to the national park, but also access to fishing, horseback riding and a full spectrum of winter sports. Visitors can find resort choices in a number of gateway areas.
South Entrance
The south entrance to Yellowstone National Park on Highway 89 leads to Grand Teton National Park, and Flagg Ranch Resort lies between the two. Guests stay in log cabin rooms with private baths and amenities such as telephone and coffee maker. Rocking chairs on the private patios allow visitors to savor the scent of pines. The summer season from mid-May to mid-September is brief, lodging inside the parks is limited and visitation is high. As a result, the resort recommends that you make reservations early for summer. Children under 17 accompanied by a parent stay free.
Northeast Entrance
Rock Creek Resort, five miles south of Red Lodge, Montana, on U.S. Highway 212, provides resort lodging to Yellowstone National Park visitors who want to enter through the northeastern Cook City, Montana, entrance. The national park is 65 miles away. Highway 212 also is known as the scenic Beartooth Highway. The road is only open in summer. The 30 acres of resort grounds are tucked in a canyon along Rock Creek at the foot of the Beartooth Mountains. Outdoor activities in summer include hiking, fishing, rafting, kayaking, horseback riding and golf. Snow season offers skiing and snowmobiling. Guests can choose from a lodge with rooms, studios and suites with kitchenettes, or town homes, condos or cabins. No pets are permitted. Accommodations are non-smoking.
West Entrance
Big Sky, Montana, is resort community about 55 miles from the west entrance to Yellowstone National Park. The Big Sky Ski and Summer Resort is operated by Boyne Resorts, the third-largest resort network in North America. Within Big Sky, you can find resort accommodations through Big Sky Ski and Summer Resort and through management firms such as Resort Property Management Big Sky. One of the resorts in Big Sky, River Rock Lodge, has only 29 rooms. The resort is close to the community's center with its shops, restaurants, food markets and post office, and is equally close to fly fishing on the Gallatin River and skiing on Lone Mountain.
North Entrance
The Paradise Valley that stretches along Highway 89 between Livingston, Montana, and the north entrance to Yellowstone National Park is home to a number of lodging opportunities. Among those are two resorts, one with a mineral spa and one adjacent to seemingly boundless wilderness. Mountain Sky Guest Ranch is a secluded Emigrant, Montana, resort ranch in the Paradise Valley about 30 miles from Yellowstone National Park. Lodgings include 30 guest cabins that can accommodate up to 90 people. Summer activities are family friendly and include guided horseback riding, organized games in the heated swimming pool, fishing in the ranch's stocked pond, and arts and crafts activities. The property backs up to Gallatin National Forest, with thousands of acres of rugged, pristine wilderness. Chico Hot Springs Resort and Day Spa is known throughout southwestern Montana for its mineral pools. The geothermal activity that percolates beneath the Yellowstone caldera is not limited to letting off a little steam in Yellowstone National Park. About 33 miles from Gardiner, Montana, Chico guests can soak and swim in natural open air hot spring pools. Temperatures vary from approximately 96 to about 103 degrees F. Lodging choices span a broad range from budget-friendly to luxurious. Restaurants, a saloon and entertainment at Chico Hot Springs draw visitors and locals alike.
Photo Credits
lone mountain montana image by Red Tack Arts from Fotolia.com