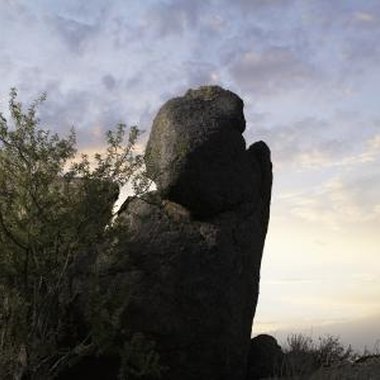 Scottsdale, Arizona lies just east of metropolitan Phoenix and has gained a reputation as a vibrant, safe and charming community in which to settle down. The nearby McDowell Mountains provide a natural getaway from the rush of city life. Moving to Scottsdale requires obtaining necessary basic services, such water, electric and garbage. You may also want to obtain services such as telephone and cable television.
Water
Scottsdale's public utility services handle water, sewage and garbage collection. New renters in the area must pay a deposit to activate their accounts. Once service is established, bills can be viewed and paid online. Because Scottsdale lies in a desert region, water conservation is an important concern. The city distributes information on ways to cut back on usage and utilities provide incentives to customers who install water-saving features to home appliances.
Electricity
Salt River Project (SRP) supplies electrical power to Scottsdale. To initiate new service, call SRP's offices at (602)236-8888 between 7 a.m. and 7 p.m. during the week. Next day turn-on is standard but same day service is possible for an extra fee. If you're moving to a new home that lacks a power meter, SRP asks for at least 15 days of notice before a meter can be installed and service turned on.
Waste and Recycling
Scottsdale's waste services pick up garbage on Mondays, Tuesdays and Wednesdays. Individual households receive one 90 gallon waste container. Residents can purchase more if necessary. On Thursdays and Fridays, utility trucks pick up curbside recycling bins. Authorities request that both garbage and recycling containers be at the curb before 5 a.m. on designated pick-up days.
Cable Television
Cox Communications offers a variety of television and communication services to residents of Scottsdale. Television packages range from basic packages with just a few channels to digital cable packages with hundreds of channels, DVR service and high-definition picture. On Demand television allows subscribers to choose from a menu of instant TV shows and movies. You can establish new service online or over the phone. Installation is free and new subscribers in Scottsdale may qualify for special offers or rebates.
Telephone
Qwest provides home phone service to Scottsdale residents. To learn what special offers are available, simply enter your address into the online form. Qwest offers a mixture of packages to suit most consumers. Basic packages offer unlimited local calling. Qwest Home Phone allows subscribers to add up to 10 special features to their line. Home Phone Unlimited provides free nationwide calling at a reasonable cost.
Internet
Both Cox and Qwest provide high-speed Internet service in the city of Scottsdale. Cox provides cable Internet with top speeds of 18Mbps. DSL Internet from Qwest is available at speeds reaching 40Mbps. For those on a budget, economy-priced packages that offer enough speed for most users are also an option. Cox and Qwest both suggest bundling services together, such as telephone and Internet or cable and Internet. Bundled services are often cheaper than buying each service individually.
Photo Credits
Ryan McVay/Photodisc/Getty Images