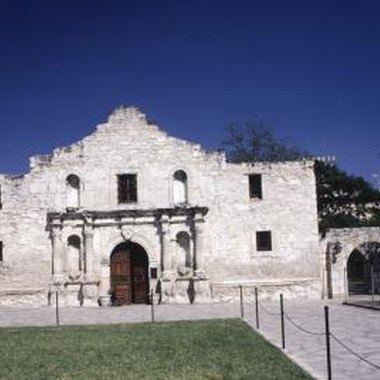 According to the U.S. Census Bureau's 2010 census data, San Antonio, located in south-central Texas, is the Lone Star State's second largest city. Home to the Alamo and four other Spanish missions built in the early 1700s, San Antonio embraces its history, multicultural heritage, stable employment base and temperate climate to create a city that offers modern amenities, respects its past and knows how to have fun.
Moving In --- Housing and Utilities
From 2006 to 2008, the U.S. Census Bureau reports a majority of homes in San Antonio occupied by owners were valued between $50,000 and $200,000. Interstate highways serve commuters throughout the area. Contact CPSEnergy for electricity and natural gas service. Environmentally concerned users can choose "windricity" (electricity generated by wind turbines) as their power source. The San Antonio Water System (SAWS), which is city-owned, supplies water to most of the Alamo City. Scattered locales in the metropolitan area are served by Bexar Met Water District. Call the appropriate utility's customer center to start service. Because San Antonio's climate is semi-arid and its primary water source is an aquifer, a city ordinance restricts landscape watering by sprinkler year-round.
Getting Connected --- Phone, TV and Internet Services
Whether you contract for each of these services separately or choose a bundled approach, companies including Time Warner, AT&T;, Direct TV and Dish Network provide satellite or cable TV, digital phone and Internet access services in San Antonio and surrounding areas. Grande Communications and AT&T; U-verse offer bundled service packages in limited service areas. Costs vary by how many and which TV channels, Internet speed and calling options you choose. Most major carriers --- Verizon, Sprint, AT&T; and T-Mobile, among others --- provide cell-phone services in and around the Alamo City.
Staying Connected --- Tech Support
With Dell in nearby Austin plus hosting giant Rackspace's headquarters and two Apple retail stores in San Antonio (as of 2011), you will find all kinds of technical experts available to repair or upgrade your computer or help you set up your electronic office or media room. With wireless options in most bundled Internet packages and plenty of Wi-Fi hot spots citywide, you'll find remote mobile access easy as well.
More About San Antonio
The nation's seventh largest city, San Antonio offers weekly curbside recycling, national and regional bank facilities, museums and most major shopping options. The city hosts eight brick-and-mortar colleges and universities, including the University of Texas Health Science Center's medical, dental and nursing schools, which feed a large health-care and medical research industry. Major military bases such as Fort Sam Houston and Lackland Air Force Base serve retirees as well as active-duty personnel. USAA, an insurance and financial services company serving current and former military and their dependents, employs thousands at its Alamo City headquarters. Entertainment options include Fiesta, the Stock Show and Rodeo, the NBA's Spurs, the WNBA's Silver Stars and the Texas League's Missions (Double A professional baseball).
Photo Credits
DC Productions/Photodisc/Getty Images