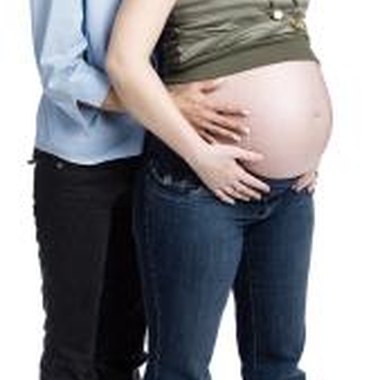 Baby showers offer the attendees an opportunity to pamper the honored pregnant mother. If she has other children or a stressful job, the attendees may focus on helping her relax and have a peaceful time during the shower. They can provide this relaxing atmosphere with a little advanced preparation and a few simple items.
Pampering Shower
Contact a local massage therapist who works with pregnant women and ask her to bring her massage table to the baby shower. Schedule her loving, relaxing massage before the other guests arrive while you set up the room, lay out the refreshments and prepare for the other attendees. Alternatively, schedule her massage for the very end of the party so the festivities are winding to a close and she can remain relaxed after the guests leave. You could invite one massage therapist for each four guests and allow everyone to receive a little pampering.
Spa Day Shower
Hold your baby shower at a local spa. Ask the spa if they have discount packages your group can take advantage of and notify the attendees what the average cost for their most popular services are. You could divide the cost for your expectant mom's spa day between the attendees or someone could volunteer to cover the cost of her treatment. Bring the normal shower gifts for presentation at the end of the spa treatment with your baby shower refreshments.
Slumber Party Shower
Schedule the baby shower for a Friday or Saturday evening and get everyone together for a slumber party. Spend the evening giving each other facials and manicures with relaxing scents such as lavender, sandalwood or myrrh. Watch a fun pregnancy-related movie such as "Look Who's Talking" or "Father of the Bride 2." Play soothing music and practice a little meditation near bedtime so attendees are inclined to relax and get some healthy sleep. Start the morning off slow with a nice breakfast before the party breaks up.
Blessingway
Invite a few intimate friends to participate in a Blessingway baby shower for the new mom. Have guests bring a favorite poem or prayer to share with the new mom. Provide some pampering in the ceremony by massaging mom's hands and feet or brushing her hair. Provide some relaxing scented lotions if she is not too sensitive to the aromas. Each guest should bring a bead to make a special necklace for her to wear during the labor to remind her that her special friends are supporting her transformative journey into motherhood.
References
"Aromatherapy: Healing for the Body and Soul"; Kathi Keville; 1998
Photo Credits
Photos.com/PhotoObjects.net/Getty Images